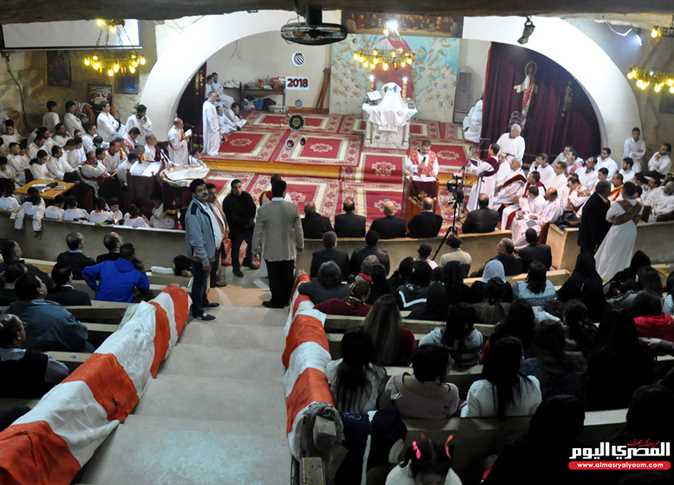 Hundreds of Coptic Catholics arrived at the Keyama (Resurrection) Church in Alexandria to attend the Holy Liturgy on Monday evening amid tightened security measures.
The security services took over the security at the entrance to the church and closed the street where the cathedral is located from both sides to vehicles and put barriers to prevent the passage of cars to and from the street, especially in the area facing the cathedral. This move coincides with the start of the Christmas Mass.
Priest Youhanna George, pastor of the Coptic Catholic Keyama Church in Alexandria, said that Copts of all denominations, including Roman, Latin, Chaldean, Syriac and Maronite Catholics, celebrated the Christmas Mass amid tightened security measures.
In statements to Al-Masry Al-Youm, George said that Bishop Antonios Ghattas, the under-secretary general of the Coptic Catholic Patriarchate in Alexandria, led the sermons on behalf of Cardinal Antonios Naguib, the Coptic Catholic Patriarch Emeritus of Alexandria.
The sermons were attended by the priests of the cathedral and hundreds of Coptic Catholics, while the bishops presided over the prayers.
He added that the metal detectors located at the main gate of the cathedral are in operation, as well as at Catholic churches across Egypt. Access is allowed to people after showing their identity cards.
He pointed out that the Mass service began Monday evening, while the celebration of the feast is on Tuesday morning.
Catholic and Eastern Orthodox churches celebrate Christmas on December 25 each year, while the Coptic Orthodox Church celebrates Christmas on January 7 every year.
Egypt's Interior Ministry had previously issued a security alert for the ministry's departments in all governorates on the occasion of the Christmas and New Year celebrations, the ministry announced on Friday.
The security alert initiated an intensification of security services at all vital and important institutions in order to provide a secure environment during the celebrations, the ministry added.
Edited translation from Al-Masry Al-Youm