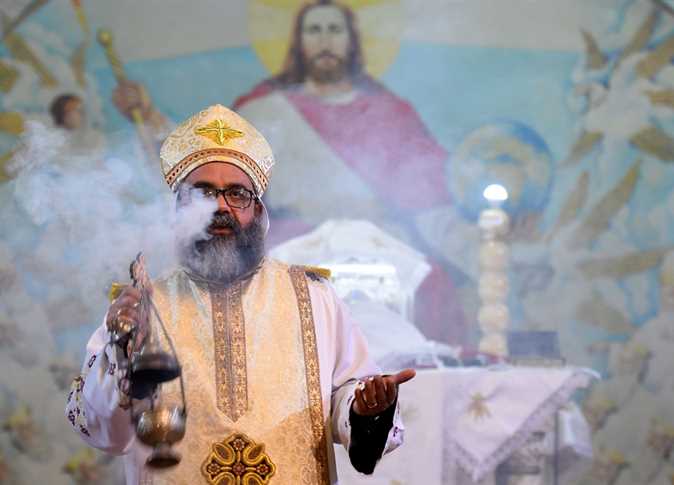 Coptic Christians across Egypt celebrated the Epiphany feast on Saturday evening, amid tightened security measures as governors and executive leaders visited churches to congratulate the Copts.
In Alexandria, Governor Abdul Aziz Qanswa, Head of Security Directorate Mohamed al-Sharif, Chief of Staff for the Navy Ashraf Atwa, executive, popular and religious leaders and delegations from the Endowment Ministry, Al-Azhar and the Coptic communities visited the papal seat headquarters of the Coptic Orthodox Cathedral to congratulate Pope Tawadros II of Alexandria on the Epiphany feast.
The cathedral saw tightened security coinciding with the presence of the pope. The streets surrounding the cathedral were closed and iron barriers were put in place to prevent cars from passing through the streets. Metal detectors gates were also put to inspect people going inside the cathedral.
Pope Tawadros II also received Theodore II, Eastern Orthodox Patriarch of Alexandria and all Africa, and his accompanying delegation to congratulate him with the Epiphany feast.
In Dakahlia, thousands of Orthodox Copts went to churches to participate in the Epiphany, which coincides with the baptism of Christ by John the Baptist. The churches were covered with roses and scarlet curtains to cheer the celebrations.
The Security Directorate imposed strict measures around the churches by placing barricades and electronic gates to detect metals and weapons, while scouts were deployed on church doors to identify frequent worshipers.
In Sharqia, hundreds of Copts came to church in various cities to celebrate the Epiphany and perform their prayers. Security services stepped up their presence around the churches and government installations.
Security was increased in the vicinity of public and vital areas, in addition to the deployment of regular and mobile patrols to enforce security on roads in the governorate districts.
In Sohag, Copts also celebrated Epiphany and the prayers were held on Sunday evening in various churches amidst a heavy presence of Copts and an intensive security presence of the police forces. Priests blessed the churches and the crowds of Copts who went to attend the Feast of the Epiphany with holy water.
In Menoufia, security forces also imposed strict measures in the vicinity of churches and facilities to ensure a peaceful celebration, asserting that the security forces would be vigilant and carefully inspecting all worshipers.
Edited translation from Al-Masry Al-Youm