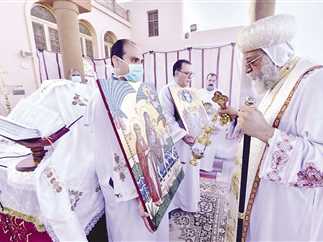 Pope Tawadros II of the Coptic Orthodox Church attended Monday rites celebrating the feast of the arrival of Jesus Christ and his family into Egypt, at the Church of Virgin Mary in Maadi.
Tawadros prayed at the altar located on the staircase on which the Holy Family descended to the waters of the Nile. He then walked through the archaeological corridor which extends from the church to the shore of the Nile.
The rituals included Tawadros casting holy water in the Nile after the end of Mass.
In his Monday sermon Tawadros said that this sacred feast is celebrated annually at one of the multiple archaeological sites which the Holy Family crossed through in Maadi, during their blessed journey of escape.

US President Donald Trump sent a congratulatory message to the Coptic community on Global Coptic Day, which was celebrated for the first time on June 1, 2019 on the anniversary of the entry of Christ into Egypt.
In his message Trump said: "I send my warmest greeting to the Coptic Orthodox community as they celebrate the inaugural Global Coptic Day."
For centuries, the Coptic Orthodox Church has been an integral part of the faith community. As June 1, 2019, marks the first Global Coptic Day, it is my hope that today provides a renewed sense of purpose for the millions of Coptic Christians in the Middle East and around the world […] My Administration will always defend religious liberties and work to ensure that people of all faiths are free to live and worship according to their conscience and faith."
The Bishop of Sohag and Maragha participated in a Sunday ceremony organized by the University of Sohag to grant the "tolerance and religious dialogue" award around the anniversary of Christ's entry into Egypt.

During the ceremony, Sohag University President Ahmed Aziz announced the winner as Professor Mahmoud Farrag, who presented the research paper "Religious Tolerance, the Icon of Communication Between the Past and Present."