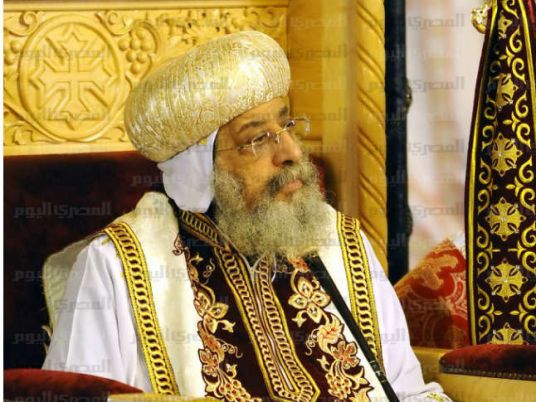 The Coptic Orthodox Church has denied rumors that the synod is planning to remove Pope Tawadros II.
"Thanks to those who worked to spread the rumor against the pope, it showed the love of the Holy Synod and the people for his holiness," said Coptic Orthodox Church Spokesperson Paul Halim in a statement on Sunday.
He added, "What has been mentioned in the report, which claimed moves by members of the Holy Synod against His Holiness Pope Tawadros II, is unrealistic and baseless. The Holy Synod of the Coptic Orthodox Church carries all the love, respect, and appreciation to His Holiness Pope Tawadros II".
Halim affirmed the Pope's popularity, stating that, "What happened under Pope Joseph II had certain historical circumstances that called for it, but now it is different. His Holiness Pope Tawadros II has strong popularity among the Holy Synod and the Coptic people. He has good relations with all institutions at home and abroad."
"The synod of the Church is enlightened and does not carry out such acts, so I say if there is an antagonistic move, where is it? What are they waiting for? Therefore, I affirm that there are no such moves. On the contrary, I know that the members of the Synod are enlightened and spiritual enough, which makes them maintain the unity of the Church with all force."
Halim stressed that such rumors are "bubbles in the air" that do not affect the church, as it has previously experienced many similar rumors.
Edited translation from Al-Masry Al-Youm