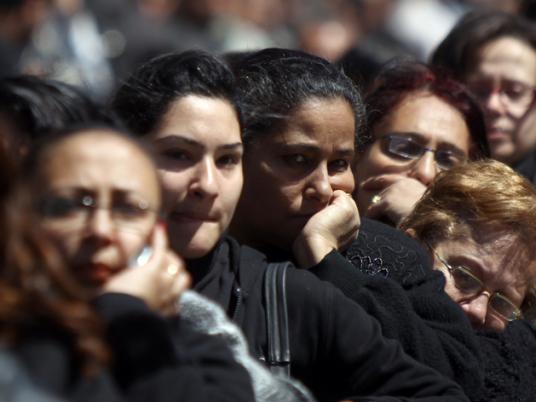 Several Copts affected by the church's refusal to grant them permission for a second marriage decided to cancel a protest scheduled to take place at the Cathedral in Abbassiya on Wednesday.
One of the Copts told Al-Masry Al-Youm that he and several others had protested at an earlier time in order to reach Egypt's Copts leader Pope Tawadros II. Instead, they were arrested and remanded into custody for protesting inside a place of worship.
"It's wise not to address the church which expelled us and left us to be arrested once again. We will resort to President Abdel Fattah al-Sisi, being a president for all citizens. We are Egyptians before anything. He should find us a solution that conforms to the constitution and considers family and human rights' international charters," he added.
Meanwhile, a church source speaking on condition of anonymity said the pope will give his weekly sermon Wednesday, after it was canceled last week due to the protest. He added that the cathedral will not allow protesting inside places of worshipping and will not allow a group of people to impose their opinions on the rest of Copts who come from several provinces to attend the sermon.
The source stressed that the cathedral will put up banners at the entrance to prevent protesters from entering and that attendees will enter through electronic gates. He added that the pope accepts difference in viewpoints and cares for others' opinions.
Edited translation from Al-Masry Al-Youm