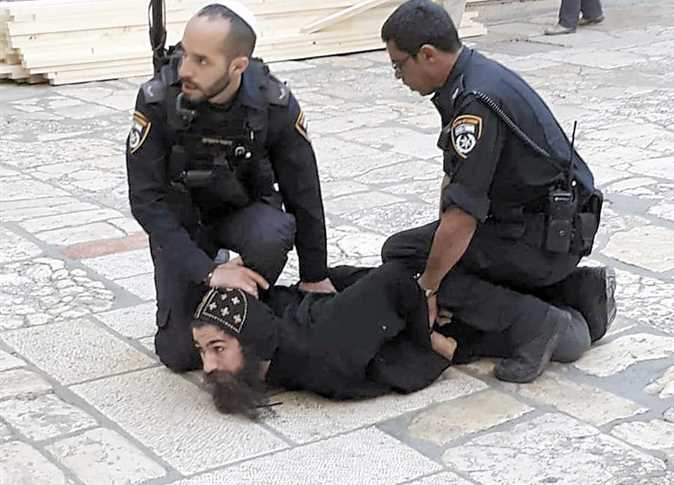 The American Coptic Association organized a rally in front of the Israeli consulate in New York on Monday to protest the actions of Israeli police against the Coptic monks of Deir al-Sultan, in Jerusalem.
The Association used a bus to hang posters decrying the incident.
The rally is the least Copts in the US can do to support Antonius, Metropolitan of Jerusalem and the Near East, who was assaulted by Israeli forces as he defended the Coptic Orthodox Church's rights in Deir al-Sultan, Association Chairman Adel Ageeb told Al-Masry Al-Youm.
He added that the rally is a message to all Coptic monks in Jerusalem that they are not alone, since the monastery is "Coptic Egyptian" and thus defending it is the responsibility of all Egyptians.
The Association will continue organizing rallies until the Israeli authorities implement the Supreme Court of Israel's verdict which stated that Deir al-Sultan should be handed over to the Coptic Orthodox Church, Ageeb said.
On Sunday Antonius said that an Israeli court turned down a request by the Coptic Orthodox Patriarchate in Jerusalem to carry out necessary renovations inside Deir al-Sultan on the grounds that since the place is archaeological and must be renovated under the supervision of the Israeli antiquities authority.
The Israeli forces stormed Deir al-Sultan, owned by Egypt's Coptic Orthodox Church, in Jerusalem and assaulted monks publicly without international organizations taking any action regarding the incident, Coptic lawyer Hany Sabry mentioned.
Sabry called on Egypt to internationalize the case until the monastery is handed over to the Coptic Church.
Edited translation from Al-Masry Al-Youm