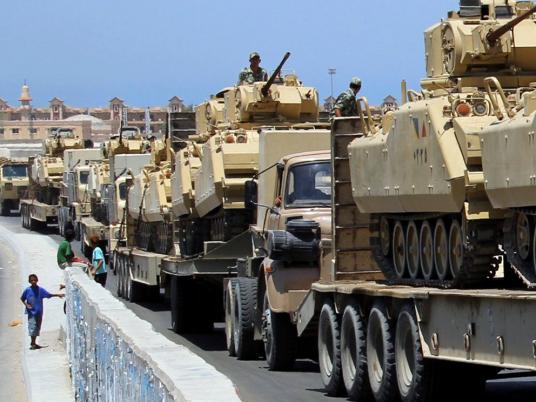 Copts made up a very small percentage of the incoming class at the Military Academy, which also saw a small number of cadets from Sinai.
Academy chief Major General Essmat Murad told Al-Masry Al-Youm on Thursday that 25 students from North Sinai were admitted, as well as 11 from South Sinai. For many years, Sinai Bedouin complained about exclusion from police and military academies. Other figures include 13 new cadets from Aswan, eight from the Red Sea, three from New Valley and eight from Marsa Matrouh. Typically most new cadets come from middle class urban families from Cairo and Alexandria. He said that the number of applicants had risen from 40,000 to 72,000 this year.
Murad disclosed for the first time the number of Copts who were admitted to the academy. He said 20 Copts were admitted out 637 that applied. This means that less than 1 percent of applicants were Copts, who constitute about 10 percent of Egypt's 83 million people.
Defense Minister Abdel Fattah al-Sisi had approved the list of 2,451 new cadets at military colleges. The number was 17 percent higher than applicants last year.
Newly-enrolled Military Academy students swore loyalty to the armed forces in an unprecedented procedure at a ceremony, Al-Masry Al-Youm reported.
Murad said that the academy would terminate the enrollment of any students who were involved in politics or expressed political sentiments. "We will not allow any political practices or expression of partisan thought by students inside or outside military colleges."
Sources at the academy said the new practice aims to ensure that students are not loyal to any political group.
Concerns have surfaced that the rise of Islamists to power would lead to an attempt to dominate the key military and police training institution.
In February, Al-Masry Al-Youm quoted security sources as saying lawmakers from the Brotherhood's Freedom and Justice Party had asked for a six-month intensive course at the Police Academy for law school graduates affiliated with the group, reportedly to help fill security gaps.
The Brotherhood denied such claims and Police Academy officials said they do not set quotas for any political or other groups.