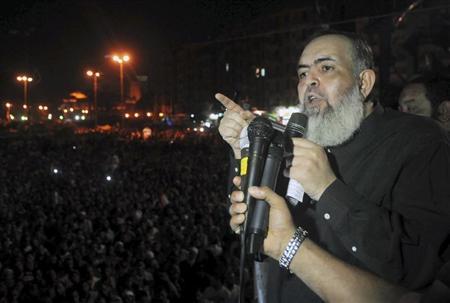 Cairo Criminal Court has adjourned the lawsuit against popular Salafi preacher Hazem Salah Abu Ismail until Thursday to summon prosecution witnesses and defense representatives.
Abu Ismail appeared on Monday for the first time in the cage for accusations of forging his mother's nationality. He had also been detained pending investigations over inciting violence between supporters and opponents of toppled President Mohamed Morsy after the Islamist leader was removed by the army in July.
Abu Ismail did not show up during the previous sessions for security reasons. The court, presided by Mohamed Sherine Fahmy, then decided to transfer the session to the Police Academy.
Abu Ismail rejected transferring his trial sessions without notifying his defense. When the judge called him to prove his attendance, Abu Ismail refused to answer.
Verbal wrangles erupted between Fahmy and Abu Ismail, who talked about injustice and not giving him chance to speak, when the judge harshly told him: "When the court speaks, you should listen." Abu Ismail responded: "Don't shout at me."
While two of the defense lawyers were talking to the judge, Abu Ismail interrupted them saying: "This trial is illegal as the defense team is incomplete. I didn't know about my trial location until this morning. The rest of the defense team do not know the trial location. Most of them are in the Fifth Settlement."
Abu Ismail said he wanted to bring documents, however, security forces prevented him. "If there is no real justice at the court hall, I will cede the defense."
Edited translation from Al-Masry Al-Youm