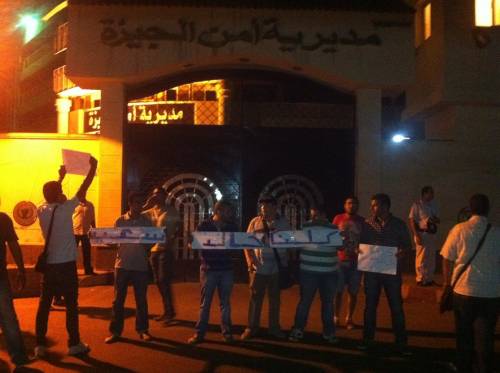 The Cairo Court of Urgent Matters stirred controversy on Monday when it issued a verdict banning the activities of April 6 Movement and ordering the seizure of its headquarters.
The group said in a statement that it will not "recognize the verdict and will resume the activities outside the legal framework."
Amr Ali, general coordinator of the movement, described the verdict as 'fragile' saying it was made for 'media usage only' and that group's lawyers are ready to cancel it. He also indicated that the movement will continue its activities as a political pressure group.
Sherif al-Rouby, spokesperson of April 6 Movement, the democratic front, described the verdict as 'political at the first place' saying that the movement is not an NGO or a political party but a peaceful political pressure group. He added that the movement will not challenge the verdict and that it does not care for a ruling that ban its activities.
"If arrested, I will urge authorities to identify me as member of the April 6 Movement," Rouby told Al-Masry Al-Youm. He added that his front will continue its activities peacefully to achieve goals and demands of the revolution.
Tareq al-Khouly, former member of the group, commented saying, "this is the outcome of several wrong actions within the movement that I tried to resist and failed to reform."
On Twitter, Khouly said, "the group leaders were tempted with financial matters, traveling abroad and sometimes political posts," indicating to Ahmed Maher, the founder, who was appointed within the 100-member constitutional panel under the Muslim Brotherhood rule.
A lawyer had earlier filed lawsuit urging Interim President Adly Mansour, Prime Minister Ibrahim Mehleb, Interior Minister Mohamed Ibrahim, Defense Minister Sedqy Sobhy and Public Prosecutor Hesham Barakat to suspend activities of the group and seize its headquarters for smearing Egypt's image and spying.
The April 6 Movement was a main opponent against rule of toppled presidents Hosni Mubarak and Mohamed Morsy.
The group was formed upon calls for a general strike on 6 April 2008 in solidarity with protests of spinning and weaving workers in Mahalla city against price hikes and low wages.
Edited translation from Al-Masry Al-Youm