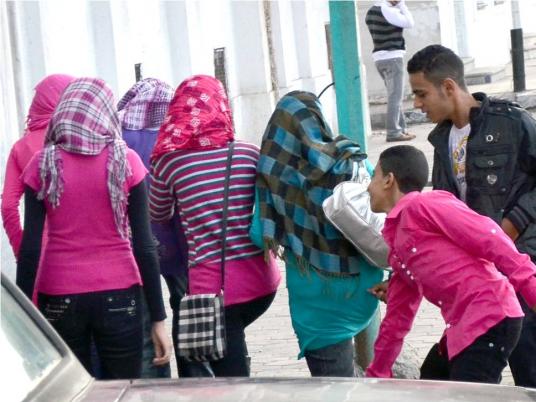 The Abdin Misdemeanor Court on Tuesday fined a 25-year-old vendor LE2,000 for molesting a woman in downtown Cairo, an Egyptian rights group said Tuesday. The vendor is also to pay LE50 to cover her lawyers' fees and expenses.
The Aswat Masriya news website, affiliated with Reuters news agency, quoted the El Nadeem Center for the Rehabilitation of Victims of Violence, which said the incident took place last September on Shawarby Street in downtown Cairo.
According to the center, the vendor sexually harassed two women, although only one pressed charges.
The group's lawyer Michael Raouf said the sentence was minor since the man was not imprisoned and that Egypt needed to do more to protect women.
"The law punishes people for molesting women in public, but does not punish other crimes, such as rape, severely enough," Raouf said in a statement Tuesday.
Twenty-three women's organization drafted a bill in September criminalizing all forms of physical and sexual violence against women, men and children. Activists then marched to the presidential palace to submit it to his office.
Sexual harassment and violence has been in the media spotlight as of late after a series of brutal attacks and rapes on female protesters and activists following protests sparked by the second anniversary of the uprising.