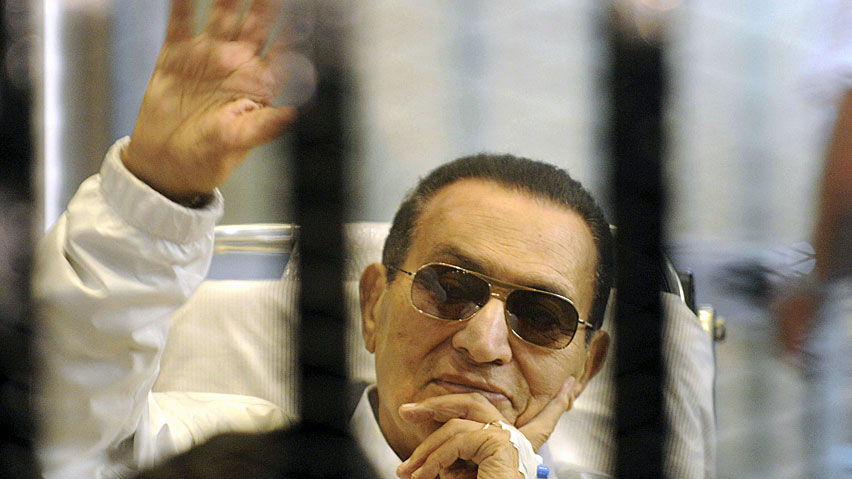 Cairo Criminal Court on Wednesday postponed the retrial of former President Hosni Mubarak and his sons Alaa and Gamal to 19 March in the case of
seizing LE125 million of financial allocations for presidential palaces.
The court also banned all defendants from travel.
The trial had begun its first session earlier on Wednesday in order to review the evidence after request by Farid al-Deeb, the defendants' lawyer.
Public Prosecutor Hesham Barakat had referred the lawsuit to Criminal Court after prosecution concluded its investigations adding four new suspects.
The lawsuit was referred to Criminal Court after supreme state security prosecution concluded in June 2013 investigations and referred only Mubarak and his sons to the prosecution. However, the court then returned it at the first session to the public prosecution to resume investigations.
The four new suspects were Mohie Eddin abdel Hakeem, engineer at the central department of the presidency's communications, Amr Mahmoud Mohamed Khedr, engineer at presidency, abdel Hakeem Mansour and Magda Ahmed Hassan, engineers at the Arab Contractors company, for being responsible for the communications center project and facilitating seizure of the public money by Mubarak's family.
Prosecution then referred the lawsuit to Criminal Court.
Prosecution representative urged the court to give the suspects a harsh sentence. All the suspects denied all the charges levelled against them.
The new suspects, according to investigations, are accused of developing building and properties of Mubarak and his sons without paying for them and adding them to the state budget allocated for the Housing Ministry's communications centers of the presidency at LE125 million, which led to squandering the public money.
Investigations also showed that the suspects approved the developments at properties of the Mubaraks to be carried out by the communications centers illegally.
Prosecution had earlier accused Mubarak and his sons of constructing, finishing and decorating their buildings at Heliopolis, Ahmed Orabi Association, Kattameya heights, Sharm al-Sheikh, Marina and offices of Alaa and Gamal at Heliopolis between 2002 and 2011. Costs of all these were paid from the presidency's budget. Reports from the Central Auditing Organization and Ain Shams University's Faculty of Engineering proved the crimes.
Edited translation from Al-Masry Al-Youm