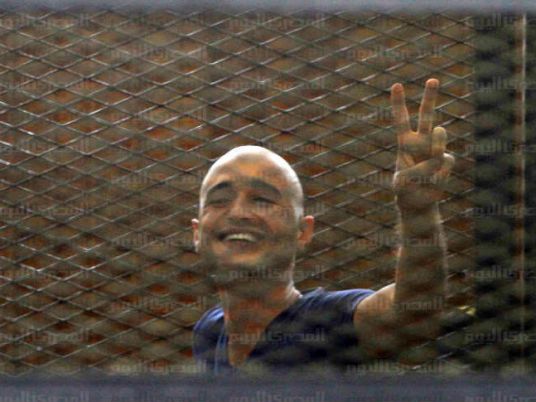 The Maadi Court of Misdemeanors ruled on Saturday to reduce activist Ahmed Douma's sentence for insulting the judiciary to a fine of LE 10,000, almost three years after he was initially sentenced to three years in prison and a fine.
In May, the Court of Cassation accepted the challenge filed by Douma against his three-year prison sentence on charges of insulting an Egyptian judge during a court session.
During the trial session, Douma asked judge Nagy Shehata whether he had a Facebook account, which the latter denied. Douma responded that a Facebook account attributed to Shehata published hostile political statements, which reflected Shehata's bias and violated the law which bans judges from expressing political views. Douma added he does not trust the integrity of his trial or the judge.
Douma, a prominent figure among activist groups that ousted former president Hosni Mubarak and campaigned against his military successors, has been accused of multiple charges ever since.
In October, Egypt's Court of Cassation accepted his appeal against a life sentence order handed to him in February 2015 in the Cabinet clashes case, state-run agency MENA reported at the time. A retrial is yet to be scheduled.
In this specific case, Douma, and 268 other defendants, are facing charges related to protesting, possession of weapons and Molotov cocktails, assaulting members of the armed forces and police, burning public premises, including the headquarters of the cabinet, Parliament, al-Shura Council, and the Ministry of Interior.
In December 2011, security forces forcibly dispersed a three-week sit-in at the cabinet building, and then in February 2015 he was sentenced to life in prison and given a EGP 17 million fine by a Cairo criminal court after being convicted of the charges.
At least 18 people were killed and hundreds injured in the violence, which spanned over a period of five days
Douma also received a three-year sentences in another case for breaching the country's protest law in January 2015, a sentence he has already completed.