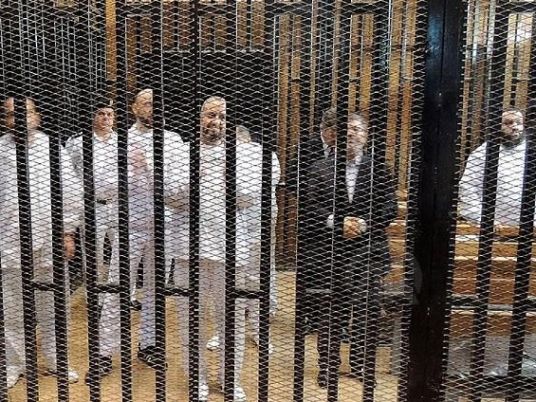 Cairo Court of Appeal has set 9 April to issue a verdict regarding the request to
replace the judges of the prison break and espionage lawsuits in which toppled President Mohamed Morsy and other Muslim Brotherhood figures are accused.
The request was originally submitted by defense lawyers of the suspects Mohamed al-Beltagy and Safwat Hegazy.
The requests is based on five reasons: namely that the court is unconstitutional, that it holds a predisposed position, that it violates the guarantees provided in the Code of Criminal Procedure for the defendants, and that the president of the court is suspected of antagonism towards the defendants.
Among the runaway suspects: Islamic preacher Youssef al-Qaradawy, former Information Minister Salah abdel Maqsoud, deputy Supreme Guide of the Muslim Brotherhood Mahmoud Ezzat, Hamas's Qassam brigades leaders Ramzy Mowafy and Ayman Nofal, Hezbollah leaders Mohamed Youssef Mansour and Ehab al-Sayyed Morsy. The last two suspects were sentenced to rigorous imprisonment in April 2010 over the lawsuit of Hezbollah terrorist cell.
Judge Hassan Samir, delegated from Appeal Court to investigate the incidents, accused the suspects of kidnapping and detaining policemen at Gaza, possessing heavy weapons, killing and attempting to murder policemen, setting public establishments on fire, breaking into prisons and stealing its contents, enabling inmates of running away and stirring chaos.
Edited translation from Al-Masry Al-Youm