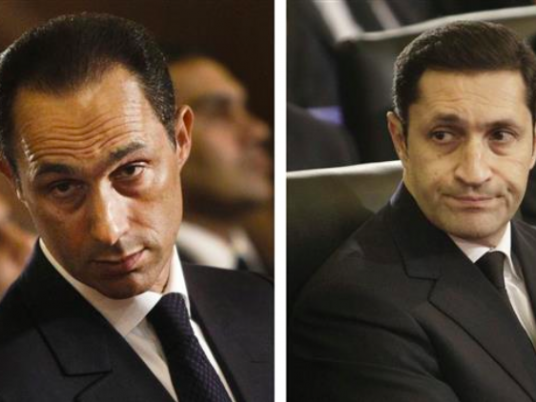 The Court of Cassation rejected on Tuesday the appeal filed by the prosecution against the release of Alaa and Gamal Mubarak over his involvement in the case known to the media as 'presidential palaces'. The decision was sustained.
Defending former president Hosni Mubarak was Lawyer Farid al-Deeb who pleaded that Alaa and Gamal had already spent the necessary duration of his sentence in custody after the January uprising and that there was a period of time that was not counted by prosecution.
The Cairo Criminal Court accepted in October 2015 the appeal filed by Alaa and Gamal Mubarak against the verdict of spending three years in rigorous prison claiming they spent the period in detention.
However, the prosecution challenged their release at the Court of Cassation and said that the Criminal Court was mistaken for adding the periods that Alaa and Gamal spent in other lawsuits, claiming the mistake was in favor of the suspects who did not spend the whole duration in custody.
In May 2015, Cairo Criminal Court sentenced Mubarak and his sons to three years in prison over accusations of seizing LE125 million worth of presidential palaces' financial allocations. They were fined LE125,779,000 and ordered to repay LE21,107,000.
Prosecution accused Mubarak, during the time he was president, of seizing and facilitating seizure of state funds illegally.
Edited translation from Al-Masry Al-Youm