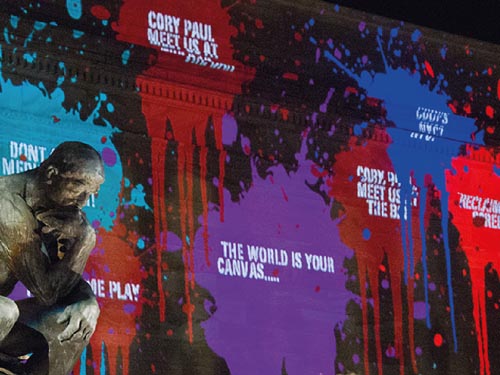 The Downtown Contemporary Arts Festival offers in its final week an exciting program for the community of Downtown Cairo.
This interactive outdoor installation by VR/urban of Germany enables people to reclaim urban space. Text messages can be typed on a phone-sized keypad, which is integrated into a wooden slingshot. The user then aims at a media facade and shoots the message straight to the targeted point.
18–20 April, 7–9 pm
Cafe under Egyptian Media Development Program
10 Elwy St., behind the Egyptian Exchange, Downtown, Cairo
White Rabbit Red Rabbit
Actor Ramsi Lehner will perform in English a play on authority by Iranian artist Nassim Soleimanpour. Lehner will read the script for the first time on stage with no props, rehearsals or directing, leaving space for improvisation.
18 April, 8 pm
AUC Falaki Theater
24 Falaki St., off Mahmoud Basiony St., Downtown, Cairo
Sadat, El Rass & Munma
Since his debut in shaaby weddings four years ago, Sadat's popularity has skyrocketed. He mixes rap with shaaby music and his lyrics are inspired by street culture with all its social problems. The Lebanese El Rass and Munma released their first collaborative album in early 2012. The encounter between El Rass' lyrical armada of rap, poetry and slammed vocals, and Munma's electronic genius creates a musical universe of evocative sounds, melodies and beats.
18 April, 10 pm
Shahrazad Night Club
Alfi Bey Street, off Oraby Square, Downtown, Cairo
'In the Eye of the Storm' film night
This night is dedicated to documentary films about peaceful social movements and civil disobedience around the world. It starts with "The Thing Next Door" by Antje Hubert (Germany), followed by "Tous au Larzac" by Christian Rouaud (France) and "Ai Weiwei: Never Sorry" by Alison Klayman (US). "The Things Next Door" and "Tous au Larzac" will be rescreened at Falaki Theater on 22 and 23 April, respectively. "Ai Weiwei" will be rescreened on 24 April at AUC Oriental Hall in Tahrir Square.
19 April, 10 pm
Radio Cinema
24 Talaat Harb St., Downtown, Cairo
'Face the Vitrine'
This installation by Ganzeer and Yasmine Elayat takes place in the window of a public storefront so that the street and passing pedestrians are involuntary participants. It blurs the line between private and public space, explores how it feels to be watched and exposes our gender and identity dynamics.
22–28 April, 10 am to 5 pm and 6 pm to midnight
Mahmoud Basiony shopfront
11 Mahmoud Basiony St., Downtown, Cairo
'I'm Nobody's Shadow'
This live, interactive performance by the Tunisian duo Marion and Ghazi Frini brings video art and shadow theater together. It is about a shadow, free from the body that produced it, that evolves between dream and reality, happiness and discomfort.
24–25 April, 4 pm and 6 pm; 27 April, 2 pm
Viennoise Hotel
11 Mahmoud Basiony St., Downtown, Cairo
For the complete program of events, please visit www.d-caf.org