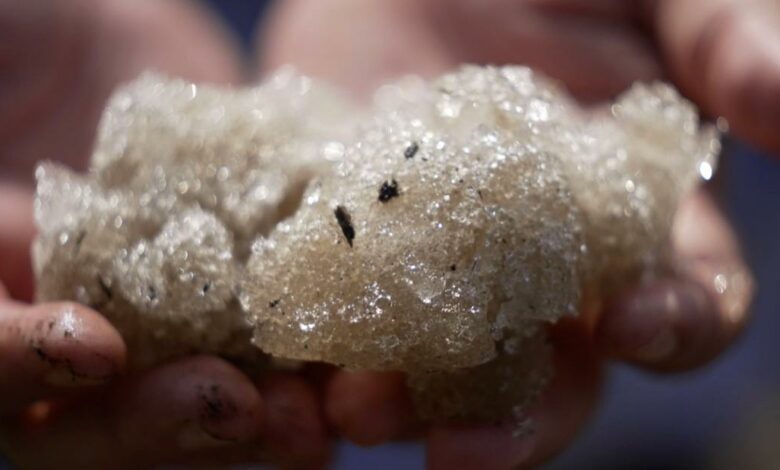 Bibai, in Japan's northernmost island of Hokkaido, and its White Data Center have turned to snow.
At WDC, snow is collected and piled up in an insulated mound outside the building. Heat captured from its servers slowly melts the snow, and the water cools pipes containing antifreeze — which then flows around the data center via an AC system, keeping temperatures around 25 degrees Celsius (77 degrees Fahrenheit).
"Temperature range is controlled by combining the coldness of snow and the warmth of IT exhaust heat to keep the temperature at the right level all year round," says WDC director Kota Honma.
The number of data centers around the world continues to grow, to keep up with the rise of streaming, cloud-based gaming, and cryptocurrency mining. But they typically consume a lot of power, and are already responsible for roughly 1% of global energy demand, according to the International Energy Agency.
The Bibai data center began experimenting with snow in 2014 with a grant from Japan's New Energy and Industrial Technology Organization (NEDO), and according to Honma, has reduced data center cooling costs by 55%. Now a commercial entity, WDC hopes to attract business from Tokyo-based data centers.
"WDC is always air-conditioned using only 100% natural energy, without using electric cooling or thermal fuels," Honma tells CNN Business. "Compared to the cost of renting [server] racks in Tokyo, we think we can offer them lower maintenance costs."
Using the power of snow
There is a long-standing relationship with snow and Northern Japan's economy. Bibai, about 1,000 kilometers (620 miles) north of Tokyo, sees between eight to 10 meters of snow per year and spends 400 million yen ($2.9 million) plowing and dumping it. "This is considered a nuisance for residents … and it could actually be put to good use," says Honma.
Roughly 200,000 tons of snow are plowed from the streets of Bibai each year, and city authorities are partnering with WDC to deliver some of that snow to its data center. With the extra cooling capacity, the goal is to scale up the center from 20 server racks to 200.
During the summer months, the snow mound is insulated with a covering of wood chips and dirt. Storing "free" cold energy falling from the sky is a no-brainer as a business opportunity, says Takahisa Tsuchiya, executive director of Bibai City's economic department. "We always say that we should change our point of view and make the snow be on our side," he adds.
Snow cooling is only one piece of the data center's energy puzzle. Heat from the servers is used to warm air and water in an adjacent greenhouse, where the company is growing mushrooms and has tested other products including Japanese mustard spinach, coffee beans, abalones and sea urchins. It's also hoping to become the first commercial eel farm in Hokkaido.
Catering to big energy hogs
The global data center cooling market is estimated to reach more than $12 billion by 2027, according to market research firm Arizton, and some big tech companies have already been chilling with cool temperatures by setting up shop in Nordic countries.
Facebook's (FB) server facility in Odense, Denmark keeps the building cool with outside air and hopes to reuse the heat in local hospitals. Google (GOOGL) has a data center in Finland using pipes with ocean water to chill servers, aiming to reach zero carbon emissions in its data centers by 2030.
Yet when it comes to cutting energy usage, some experts say it's more important to focus on what data these vast servers are handling. Mining cryptocurrencies such as Bitcoin, for example, requires massive amounts of electricity.
"Renewable and sustainable power and cooling systems are a second but far less optimal solution," says Paul Brody, principal blockchain leader at Ernst & Young.
The upside of data centers, Brody adds, is that they aggregate computer operations under one roof instead of dispersing them across several locations. "I'm 100% in favor of snow-cooled and other low-impact data centers, regardless of whether or not you have Bitcoin in them," he says.