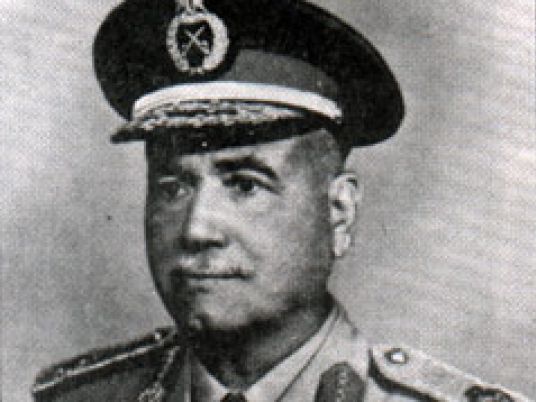 On today's, Field Marshal Ahmed Ismail died 25 December 1974.
Ismail was the defense minister and the commander in chief of the Armed Forces from October 1972 to October 1974. He had served in the armed forces since 1945. During that time, he fought in the 1948 Palestine War, against the tripartite aggression in 1956, in the 1967 war of attrition against Israel and the October 1973 war.
He was chosen by the American ARMY Magazine as one of 50 international military figures who have added new tactics to warfare.
He graduated from the Military Academy in 1938 and was a colleague of both late presidents Gamal Abdel Nasser and Anwar Sadat.
President Gamal Abdel Nasser summoned Ismail and gave him command of the forces east of the Suez Canal. Only three months after fighting in 1967, he established the first line of defense, reorganizing, training and arming these forces. Shortly afterwards, the forces managed to fight a number of battles, including that of the sinking of the Israeli warship Eilat.
Ismail was appointed head of the General Intelligence in 1971, shortly after the late President Sadat took office. He remained in that position for nearly a year and a half, until Sadat decided to appoint him in October 1972 as defense minister and commander in chief of the armed forces, to lead the Egyptian army in one of the most vital stages of its history.
In January 1973, he was appointed by the Arab Defense Council as the commander in chief of the three fronts–Egyptian, Syrian and Jordanian. He was then asked by Sadat to prepare for the October war, in which he achieved arguably his greatest victory.
Edited translation from Al-Masry Al-Youm