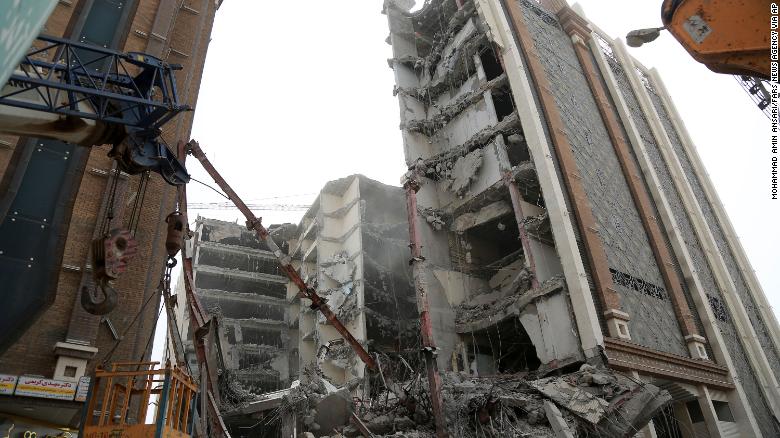 (CNN) – At least 24 people were killed in Monday's collapse of a 10-story building in the Iranian city of Abadan, state news agency IRNA said on Friday as the search for survivors continued.
In the immediate aftermath of the incident, the Iranian Red Crescent said at least 80 were trapped under the rubble and five people had been killed. The death toll has been steadily rising since. IRNA reported on Thursday that it was unclear how many might remain beneath the debris, citing the deputy governor of Khuzestan province, Ehsan Abbas Pour.
Thirty-seven people have been injured, IRNA also said on Thursday.
Videos and pictures shared by the Iranian Red Crescent on Monday showed rescue teams at the site removing rubble and debris from a destroyed building. One helicopter, 12 teams, and sniffer dogs were dispatched as the rescue operation continued, the organization said.
"Adjacent buildings nearby also have unstable conditions and are at risk of collapse," it added at the time.
On Tuesday, the International Federation of Red Cross and Red Crescent said on Twitter that 35 people had been rescued.
While the cause of the collapse remains under investigation, a total of 11 people related to the construction of the building have been detained so far, including the mayor of Abadan, state-run Channel One said on Friday.
The owner of the building and the contractor are also among those arrested, Iranian media has reported, citing the Abadan special prosecutor.