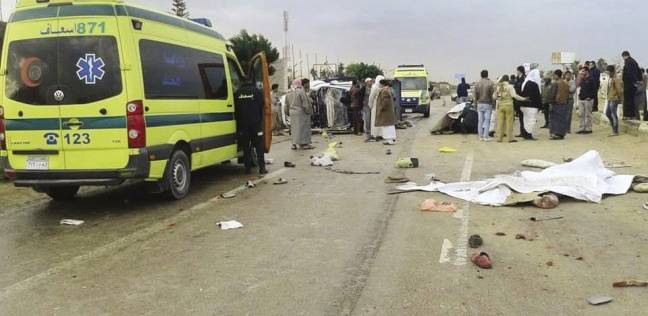 The owner of the house whose security cameras recorded the collision that killed 4 students in Egypt has accused two lawyers of trying to seize the camera's recording device and destroy it.
The collision involved the son of a famous Egyptian businessman who was driving his Aston Martin car at a very high speed and under the influence of narcotics in the Sheikh Zayed area in Giza, on Friday.
The Public Prosecution has opened an investigation into the accident and summoned the families of the deceased, and two witnesses to the incident, and inquired about the whereabouts of the driver, who was in a hospital.
Investigations indicated that the cause of the accident, the first car collided with the second from behind when the latter was turning, which led to its overturning and the death of its occupants.
The Public Prosecution took blood and urine samples from the suspect and sent them to the Forensic Medicine Authority to determine the extent of his drug use. The report of the chemical laboratory at the Forensic Medicine Authority proved that the examination of the samples tested positive for anesthetic substances and ethyl alcohol.
The detectives in Egypt are conducting intensive investigations, after the two lawyers claimed that they are members of a judicial authority to convince the landlord to hand them the device.
The owner of the house refused to hand them over the device, and the next day he went to the Public Prosecution, which is investigating the incident, to check the identity of the two people.
The owner discovered that the two people are lawyers and part of the defense team of the suspect, so he accused them of trying to damage the recording device of the cameras. Police arrested them, and they are now being investigated.
The Egyptian Public Prosecution on Monday referred the suspect in the case to a criminal court to trial over charges of possessing cocaine with the intent to abuse, and mistakenly causing the death of four students, including three children, and this was the result of his negligence, carelessness and lack of caution.
The Public Prosecution also charges the suspect with failure to comply with the laws, regulations and systems by driving a car at a high speed that exceeded the legally prescribed limit, and under the influence of a narcotic and other intoxicating substances.
Investigations of the Public Prosecution concluded that suspect's car collided with another car with four young men.