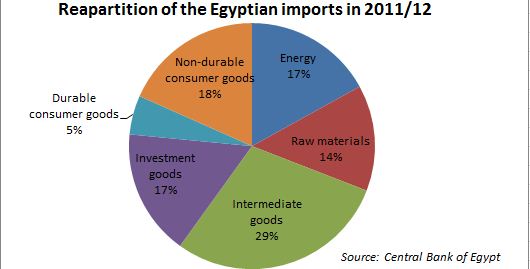 The deficit in the September 2013 trade balance declined by 28 percent to reach LE67.12 billion, compared to LE93.18 billion in 2012, according to the monthly commerce bulletin issued by the Central Agency for Public Mobilization and Statistics issued Sunday.
The report also said exports declined by 8.1 percent in September to hit LE15.87 billion compared to LE17.27 billion during the same month of the previous year, attributing the change to the decline in prices of goods such as petroleum products and crude oil, along with tiles, ceramic sanitary wares, propane and liquefied carbon.
Imports declined by 21.1 percent to reach LE28.55 billion in September, compared to LE36.2 billion during the same month in 2012, due to the decline in the prices of goods such as crude iron or steel, petroleum products, corn, chemical organic and inorganic materials, drugs and pharmaceuticals.
Edited translation from Al-Masry Al-Youm
*Correction: the article originally had mistakenly listed some of the money amounts in US Dollars instead of Egyptian Pounds.