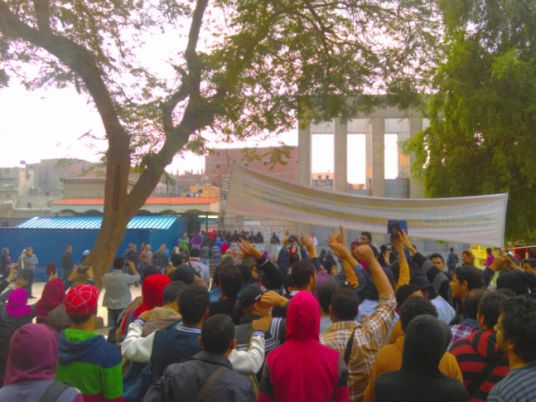 As anti-regime protests by university students continued on campuses, the Democracy Index, affiliatedo the Cairo-based organisation the International Development Center (IDC), reported Friday that 226 student protests occurred in November, with Al-Azhar students in the foreground. More than 270 students were arrested in November, and 280 were referred to prosecution.
There have been 70 violent incidents on campuses, 34 of which were for violent dispersal of protests by the security forces. Eighteen clashes took place between the security and protesting students, according to Democracy Index.
There were 6 court rulings against protesting students and one in their favor in November.
November students protests recorded an increase compared to October where 209 protests took place.
Al-Azhar University students came in the lead with 52 protests, followed by Alexandria University students with 33 protests.
Forms of protests varied between peaceful and that which turned to violence. Students staged 78 marches, 98 protests and demonstrations, and 7 human chains.
Twelve cases of blocking roads were recorded and 5 cases of strike.
Some students expressed their political views through art exhibitions and theatrical performances.
One and forty eight protests demanded the release of detained students. Twenty seven protests deprecated former President Hosni Mubarak acquittal, and 15 protests were commemorating the victims of Mohamed Mahmoud Street clashes.
Two hundred and eighty students were referred to interrogation and 265 were dismissed from college.
About 140 students were sacked last year and reinstated to Al-Azhar University upon a court order in November.
More than 270 students were arrested in November. The strangest incidents were for a student who was arrested at Cairo University while possessing a novel about despotic military regimes, and another who possessed a pin that read "Tomorrow your triumph shall be," according to Democracy Index.
Eleven faculty members were suspended from work, 6 were referred to interrogation, and 10 others were arrested in different universities over charges of belonging to the Muslim Brotherhood.
Dean of the Faculty of Medicine at the University of Zagazig Tarek al-Berembly was among those sacked over belonging to the Muslim Brotherhood organization.