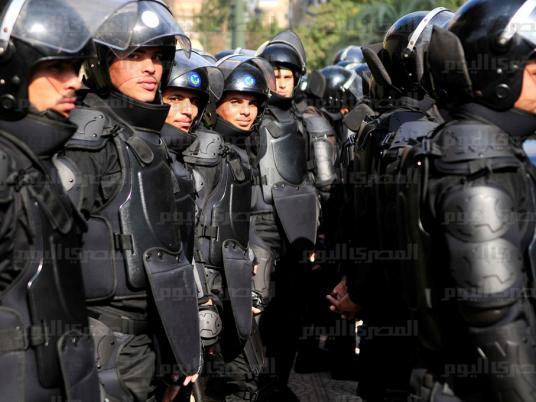 On the evening of 8 February, Hassan Shaaban visited his brother-in-law at a Khalil Pharmacy branch in Alexandria's middle-class Sidi Gaber neighborhood.
It was a Friday, and demonstrations had broken out again near the district's flashpoint police station, not far from the pharmacy. But Shaaban, a 35-year-old chronic diabetic who lived with his mother, had to refill his supply of insulin.
Shaaban's wife lived with her children from another marriage two governorates away, in Kafr al-Sheikh, but Mohamed Farouk Mohamed was still close to his sister's husband. Before Shaaban left, Mohamed warned him to take care of himself.
"He said, 'I'll take a [microbus] and be quick,'" Mohamed recently recounted at a cafe on Alexandria's seaside corniche, where he was meeting with lawyers. "He was always afraid. He was a guy who had nothing to do with protests or anything. I don't know how he was taken."
Shaaban never returned to his mother's home, 10 minutes away in Hadra neighborhood. Three days later, he was found on the floor of a prison hospital on the outskirts of the city, shivering in a thin jumpsuit and slipping in and out of a coma. Five days later, he was dead.
Hamdy Khalaf, a lawyer suing the government on behalf of Shaaban's family, said he believed that Shaaban, who suffered from a lung disease and could not move quickly, was caught and arrested in a rush of riot police during the protests. In the following days, police officers and prosecution officials ignored Shaaban's symptoms and prevented his family from delivering medication, leaving him to die, Khalaf said.
Shaaban's death continues a dark legacy in Sidi Gaber. The neighborhood's police station was long considered a center for torture, and the 2010 beating death of local resident Khaled Saeed by two of the station's detectives helped spark the revolution. Activists say the only other person believed to have died in police custody in Alexandria since the revolution, a father of two named Abdallah Badawy, was tortured to death by Sidi Gaber police.
The case, and its connection to Sidi Gaber, illustrates what human rights advocates say is a dangerous lack of reform among Egypt's security forces since President Hosni Mubarak was ousted in February 2011. Lawyers and activists say that in recent months they have documented a rise in unpunished abuse, including incommunicado detentions, torture and killings.
They have collected testimonies from children who said they were arrested at protests and threatened with death unless they confessed to participating in anti-government activities and others who said they were taken to remote Interior Ministry camps, abused and tortured for days, and then released without charge. Some said they were made to stand in rooms flooded with water that was then electrified, others said they were sodomized.
Most prominently, the Popular Current, a political movement led by former presidential candidate Hamdeen Sabbahi, has alleged that one of its young members, Mohamed al-Gendy, was tortured to death in one such camp. A government forensic report said that Gendy died in a car accident.
Since 25 January, when demonstrations marked the second anniversary of the revolution, more than 60 people have been killed in clashes with security forces. Dozens died in Port Said alone, when police opened fire on rioters — some of whom were carrying guns — after a court verdict.
On Wednesday, a coalition of prominent human rights groups issued a statement detailing the abuses and demanding the dismissal of Interior Minister Mohamed Ibrahim, who was appointed by the prime minister in January, and Prosecutor General Talaat Ibrahim, whom President Mohamed Morsy appointed in November. The group said that brutal police tactics had become worse under Morsy, a failure made more disappointing by the fact that Morsy's own Muslim Brotherhood had long decried the same abuses when they occurred under Mubarak.
"Now they have no problem with it, because they're not the target," said Ghada Shahbandar, a human rights lawyer and board member at the Egyptian Organization for Human Rights.
Shahbandar said Morsy had given "political cover and license" to the police to use harsh tactics after his controversial November push to finish the constitutional prompted unrest that threatened to bring down his administration. The police, who begrudge protesters for forcing them off the streets during the revolution, "appear to want vengeance," she said.
In early December, when police stood by as pro- and anti-Morsy partisans rampaged in the streets outside the presidential palace, members of the Brotherhood — which had called on its supporters that day to quash the opposition's sit-in — furiously complained that the Interior Ministry had abandoned its responsibilities.
Since Ibrahim was appointed, police have acted more aggressively. In late January, when Port Said residents rioted and killed two police officers after 21 local football fans were sentenced to death, prison guards and officers at Al-Arab Police Station opened fire on the crowds, killing more than 40 people over three days.
On 1 February, when a small group of protesters threw Molotov cocktails at the gate of the presidential palace, riot police advanced on foot with shotguns, firing birdshot into the unarmed crowd. Television cameras filmed them stripping and beating a middle-aged man.
"The new interior minister must show he has complete control," Shahbandar said. "They won't be held accountable, because there is no political will … the police does need institutional reform, we've been saying that for two years."
Beyond his wrongful arrest and charging by Sidi Gaber police, Shaaban's case highlighted a nexus of abuse and neglect between the police and prosecuting authorities that activists say is at work not just in Alexandria, but throughout the country. Many arrests do not lead to charges, and authorities file no paperwork, Shahbandar said. The task of representing and defending those who have come into police custody falls to a network of volunteer human rights lawyers.
Shaaban's 65-year-old mother learned that her son had been arrested two days after he disappeared when she met Salwa Bashir, a 32-year-old lawyer, after searching through hospitals, ambulances and morgues. Bashir had seen Shaaban when she attended a group interrogation at Borg al-Arab Prison, on Alexandria's western fringes.
"When there are demonstrations, we know there are random arrests, and as human rights lawyers, we are looking for people like [Shaaban]," Bashir said. "When he was arrested, he was sick, very sick, and he was so exhausted that he couldn't stand up and he couldn't speak properly. He told the prosecutors, 'I'm sick and diabetic and for two days I haven't taken insulin.'"
The day after meeting Bashir, Shaaban's mother went to Borg al-Arab and paid two guards to be allowed inside, Mohamed said. She had brought supplies for Shaaban, including two packs of cigarettes, insulin and amiodarone for his irregular heartbeat.
In the prison hospital, he said, she found Shaaban on the floor of a bare room with a bed and no medical equipment, shaking and foaming at the mouth. He had urinated on himself, and staff said he had fallen out of bed three times. She tried to give him water, but his teeth were clenched shut.
She began yelling that Shaaban needed to be fed and sent to a hospital, attracting the attention of an officer. He declined to take the insulin, saying he had no fridge to store it, and said Shaaban had simply been throwing up and would be sent to a doctor. When she demanded that Shaaban be sent immediately, the officer forced her to leave.
Five days after Shaaban's arrest, his mother visited the Sidi Gaber prosecutor's office with another lawyer, convincing the government attorney to sign a document ordering that Shaaban be examined in front of a medical committee at the prison. When she returned to Borg al-Arab the next day, Mohamed said, the prison warden handed her LE100.
"It's not going to work out," he said. Shaaban had died the previous night.
Bashir and Khalaf have filed a lawsuit naming the Borg al-Arab warden, Sidi Gaber police and prosecutors, the interior minister and Morsy.
When asked what they hoped to achieve, Mohamed interrupted: "Human dignity, everyone!"
"Morsy was imprisoned before the revolution, he should understand," he argued.
Shaaban's case came just a week after Mahmoud Adel, a 14-year-old cancer patient, was released after being arrested with other children during late January clashes in the city. A judge ordered the boy held for 15 days pending investigation, but quickly reversed himself after Shahbandar and other activists who knew of Mohamed's case raised an outcry in the media. Shaaban was not so lucky.
"The police and the Interior Ministry are doing the same thuggery and violence, and it's getting worse," Bashir said.