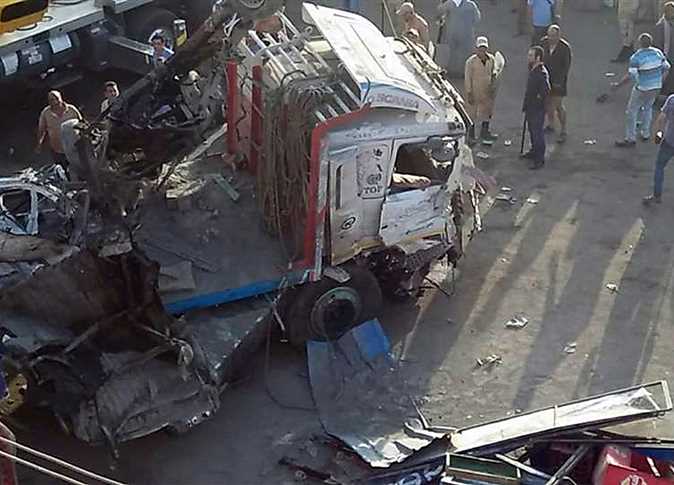 The Ministry of Health and Population stated on Thursday that 12 people in total have died in the collision between a trailer carrying cement and a lorry with workers on Minya's Al-Sahrafa road.
Another 28 people were injured after the trailer flipped over and collided with the lorry on the roadside by a cafe on the Eastern Desert road, nearby the village's entrance.
Official Spokesperson of Ministry of Health Khaled Megahd said that Minister of Health and Population Hala Zyada asked the ministry's undersecretary Omnia Ragab to provide the accident's victims with careful treatment.
Ragab clarified during visit to the victims that Zayed asked Dean of Medicine Faculty at Minya University, Hosni Sayed Abdel Ghany that to coordinated with Minya University Hospital to promptly receive the urgent cases in an easy manner.
Megahd added that the ministry dispatched 18 equipped ambulance cars that transferred four bodies to the Minya Fevers Hospital morgue, six bodies to the Public Minya Hospital morgue and two bodies to the Social Insurance Hospital's morgue.
According to Megahd, three people left the Social Insurance Hospital after receiving treatment and 19 still required treatment.  Four of the injured were transferred to the Public Minya Hospital and another two were transferred to Minya Hospital University.
Injures among the victims range from post-concussion syndrome, brain and abdomen bleeding, fractures in the pelvis, ribs and feet, cutaneous wounds and bruises and abrasions, Megahed said.
Edited translation from Al-Masry Al-Youm