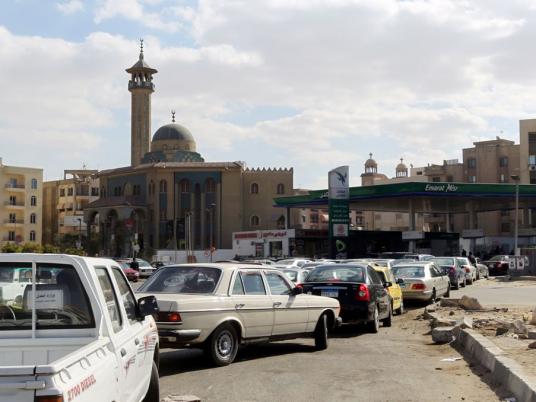 Cars queued up at gas stations on Friday for the fourth consecutive week as the diesel gas shortage continues. The Ministry of Petroleum blames the shortage — which it alternately confirms and denies exists — on bad weather that has delayed the delivery of petroleum products, as well as unusually high demand.
"The crisis has not seen any improvement for nearly one month as a result of the greed of drivers who want their tanks full, filling jerry cans as additional backup," said a Giza gas station manager.
His station receives 29,000 liters of diesel fuel daily, which is delivered at 7 am, the manager said. Although the shipment is meant to last for four days, it's consumed by the afternoon, he claimed.
A worker at the station pointed out that petroleum products are distributed unevenly across the nation. Many cars flocking to the station for diesel come from far and wide, because diesel is unavailable in their areas, he asserted.
Although 80-octane gasoline is available at sufficient quantities at the station, the queues have become commonplace since the revolution, causing a faster than normal consumption of supplies, observed another worker. However, the regular delivery of 80-octane gasoline has prevented any shortage in that gas product, he said, adding that the station receives 20,000 liters of 80-octane gas per day.
A manager of a public sector gas station said that some stations are refusing to sell diesel fuel altogether, frustrated by fights between station attendants and drivers who attempt to illegally fill jerry cans with the fuel. The fights have resulted in some workers being injured, he claimed.
Medhat Youssef, former deputy head of the Egyptian General Petroleum Corporation, said the problem of diesel fuel is not financial in nature, because other types of fuel and petroleum products are not affected. The shortage stems from ineffective national distribution, he argued.
Diesel fuel is cheap, leading smugglers to attempt to sell it in neighboring countries at LE3 per liter, Youssef claimed. He suggested increasing the price of diesel fuel as a solution.
The petroleum minister attributed the diesel fuel shortage to inclement weather that delayed shipments of petroleum products this week, as well as to internal political tensions.
These tensions impact the transport of materials between governorates, and spur fears of a shortage, in turn leading to increased consumption rates, the minister said.
Edited translation from Al-Masry Al-Youm