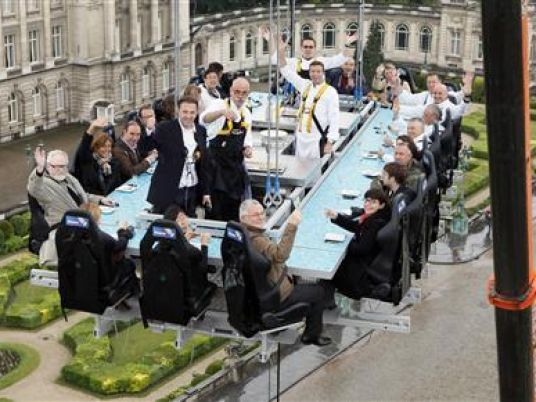 It looks like Malaysians are definitely keen to take their dining experience to newer heights as tickets have sold out just 48 hours after it was announced that "Dinner In The Sky" would be headed here in August.
Although a lot of us have been tightening our belts with the recent hike in petrol price and a weaker ringgit, it sure looks like the novelty to dine while suspended on a sky platform overlooking the iconic Petronas Twin Towers and KL Tower was too hard to resist for our fellow Malaysians. The experience, which includes a five-course dinner, is priced at RM599.
According to a post on the Facebook page of "Dinner In The Sky Malaysia", while tickets have sold out, there could be a surprise in store for those who may have missed out on a chance to make a purchase. The post further encourages those who would still like experience this unique dining event to drop an email at their website.
Dinner In The Sky will be holding two dinners daily at 6pm and 8pm throughout the month of August with a menu that also caters to vegetarians. This Belgian-based novelty restaurant service has already been to 43 different cities worldwide and was also selected by Forbes in its list of the 10 most unusual restaurants in the world.