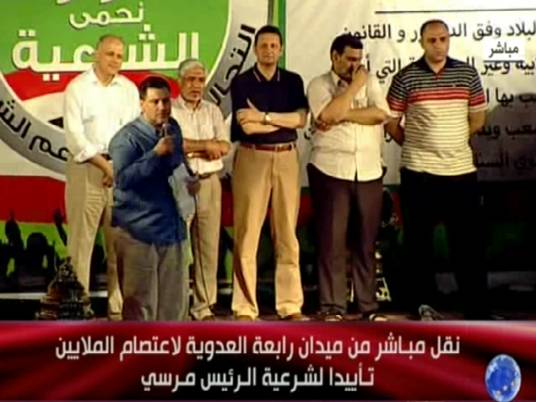 Members of the dissolved Shura Council, who are meeting in the Rabaa al-Adaweya mosque, called Monday for filing a lawsuit with the International Criminal Court against what they called "coup perpetrators," charging army personnel with violations against humanity and with instigating a bloody massacre in Egypt.
Former MPs did not make clear what they meant meant by the ICC as Egypt is not a signatory to the Rome Statute, the court's founding document.
Gamal Heshmat, a leading figure of the Muslim Brotherhood, said that the council is in permanent session until deposed President Mohamed Morsy returns to office from his forced detention. He held the Interior Minister responsible for the killing and wounding of thousands of demonstrators.
The council requested what it called "honorable" leaders of the armed forces to adhere to constitutional legitimacy, and called on the Inter-Parliamentary Union and international human rights organizations to hold an emergency session and reject the coup and the dissolving of the Shura Council.
It also called for deporting the American and Israeli ambassadors, saying they helped orchestrate the coup.
It further stressed its rejection of what it considers a "military coup" government, and called for not recognizing any of its decisions or agreements, including a potential IMF loan agreement, and to only recognize the resigned ministers of Hisham Qandil's government.
The council condemned the confiscation of freedoms, and demanded that religious satellite channels, loyal to Morsy, be reopened, and that politicians and journalists who have been detained since the coup be released.
It expressed its condolences for the families of the martyrs of the armed forces who died in numerous incidents, including the Wadi al-Natroun prison break.
Ahmed Fahmy, head of the dissolved council, said at the beginning of the meeting, which he described as "exceptional," that 100 members of the council had requested the session to discuss the military coup against the elected president, and that the quorum was reached as 140 members attended.
Edited translation from Al-Masry Al-Youm