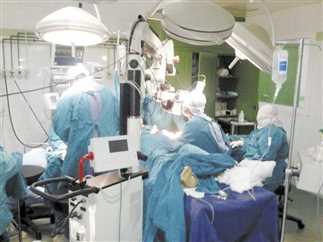 Board members of Egypt's Doctors Syndicate warned that the phenomenon of doctor emigration has been increasing over the past three years. The number of doctors who resigned during the past three years reached about 6,000 because of the weak incomes received by doctors affiliated with the Health Ministry hospitals.
The phenomenon of doctor emigration has become alarming and threatens the already neglected health system, said Dr. Ehab Taher, a board member of the syndicate, adding that the increased number of doctors' resignations is a serious indicator, as a shortage of doctors has already begun to emerge in some specialties at hospitals.
"If this continues, Egyptians will not find doctors to treat them," he stated.
Taher attributed this phenomenon to campaigns of incitement against doctors in the media and assaults on doctors at public hospitals.
According to Taher, citizens who are angered by the weak medical services direct their anger against doctors, especially in light of media incitement against doctors over negligence.
One of the main reasons for the increased resignation of doctors and their emigration is the lack of medical supplies and poor financial conditions of hospitals, in addition to the weak salaries they receive, Taher explained.
He added that doctors' salaries have not increased over the past three years, while many foreign countries provide facilities for emigrating doctors, including the UK, where doctors receive 30 times their salary in Egypt.
Dr. Mohamed Abdel Hamid, another syndicate board member, stressed that tackling this problem requires several measures, the most important of which is raising the wages and the allowances to suit the cost of living. The Health Ministry also needs to pay for the expenses of postgraduate studies as stipulated in Law 14 of the medical profession, to provide medical supplies, and to create an appropriate safe working environment for doctors.
Dr. Mona Mina, another board member, said that the rate of doctors who have submitted resignations is increasing. Al-Galaa Educational Hospital, where doctors competed to work in the past because of its excellent training level, now lacks anesthetists. Cesarean operations were transferred to other hospitals due to the lack of anesthetists, she added.
Mina explained that the low wages, starting at LE 2,300 and ending with LE 6,000 for pensioners, is one of the main causes of the phenomenon of doctor emigration, as doctors cannot meet their normal daily life needs in Egypt.
She referred as well to continuing attacks on doctors due to low quality of medical services provided at public hospitals.
A doctor who wants to marry or afford to buy an apartment and have a family has to submit his resignation so that he can work abroad for several years, because the Health Ministry has suspended leave without pay, she added.
Edited translation from Al-Masry Al-Youm