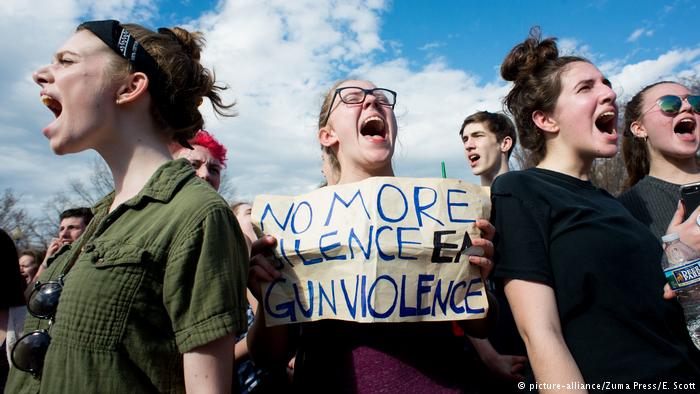 Trump has said that training teachers to carry guns "would solve the problem instantly" in a school shooting. The NRA backs the plan and has blamed the left and media for "politicizing" last week's shooting in Florida.
In a series of comments on Thursday, US President Donald Trump attempted to seek a balance between appeasing the powerful National Rife Association (NRA) gun lobby and  those who have urged him to enact gun control measures.
Trump advocated raising the gun purchasing age limit from 18 to 21, although he did not provide further details on whether that would be limited to certain types of guns. Echoing comments he made on Wednesday, Trump said he would also pursue more comprehensive background checks that emphasize mental health as well seek a ban on the sale of bump stocks.
The majority of Trump's mid-morning Tweets, however, involved praising the NRA and justifying his remarks about arming teachers and ending gun-free zones around schools in order to prevent school shootings.
Trump said he was open to looking "at the possibility of giving concealed guns to gun adept teachers with military or special training experience." He added that if trained, teachers could "immediately fire back if a savage sicko came to a school with bad intentions" and that they "would solve the problem instantly, before police arrive."
In a separate Tweet, Trump praised NRA leaders Wayne LaPierre and Chris Cox as "great people and great American patriots," in a possible response to protests held by students across the US who criticized the NRA for blocking gun control measures and gun violence research.
On Wednesday, he met with students and relatives of the victims of last week's mass shooting at a high school in Florida that killed 17 people.
NRA strikes back at critics
The NRA was on the defensive on Thursday. Speaking at the Conservative Political Action Conference (CPAC), NRA leader LaPierre backed the president on arming teachers at schools and installing armed guards, saying it was the only way to ensure students' safety.
"Evil walks among us and God help us if we don't harden our schools and protect our kids," he said at the conference. "The whole idea from our opponents that armed security makes us less safe is completely ridiculous."
The NRA chief described Democrat lawmakers calling for gun control as "European-style socialists" and accused them of exploiting last week's school shooting in Florida.
"The shameful politicization of tragedy, it's a classic strategy right out of the playbook of a poisonous movement," he said.
The NRA also criticized media outlets for gaining from last week's shooting.
"Many in legacy media love mass shootings, you guys love it," said NRA spokeswoman Dana Loesch at CPAC. "Now I'm not saying that you love the tragedy, but I am saying that you love the ratings. Crying white mothers are ratings gold."
The February 14 shooting at Marjory Stoneman Douglas High School in Parkland, Florida sparked numerous teen-led protests in several cities across the US. Many of the student protesters and their parents have called on lawmakers who have received considerable campaign donations from the NRA to be voted out of office.