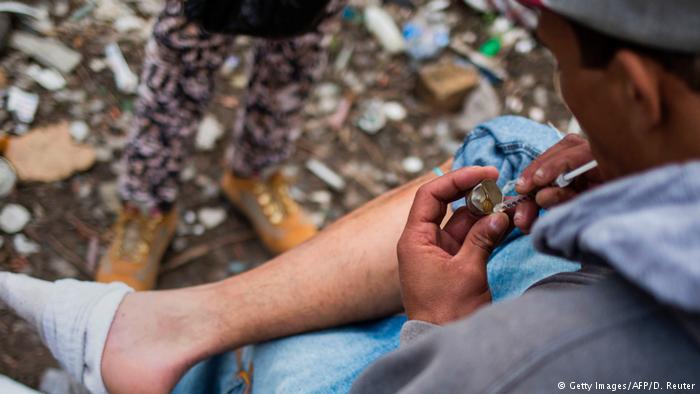 The US president wants to execute drug dealers as part of his plan to combat addiction. Trump will also ask Congress to lower the minimum quantity of drugs sold that triggers mandatory prison sentences.
In a proposal to fight opioid addiction scheduled for delivery in New Hampshire on Monday, US President Donald Trump will announce plans to execute drug dealers and traffickers when "appropriate under current law," Andrew Bremberg, director of the president's Domestic Policy Council, told reporters. Dealers spared the death penalty would face stiffer prison sentences under Trump's proposal.
More than 2.4 million Americans have become addicted to opioids, which include street-dealt heroin and fenatyl, but also physician-prescribed pharmaceuticals; 42,000 died using the drugs in 2016, and overdoses have become the most common cause of death for Americans under the age of 50. Opioid-related hospital visits rose 30 percent from 2016 to 2017, the Centers for Disease Control and Prevention reported earlier in March.
Trump's plan directs his Justice Department to prosecute doctors, pharmacies and opioid manufacturers that break the law and calls for increased research and development through public-private partnerships with other manufacturers of the drugs. The plan includes proposals for reducing opiate prescriptions by a third within three years and improving treatment for addicts.The embattled US president also plans a campaign to educate people on the dangers of opioid abuse.