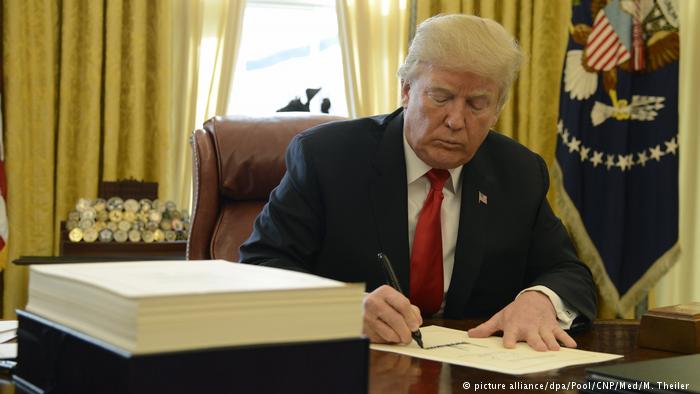 US President Donald Trump signed into law on Friday the most extensive overhaul of the US tax code in nearly 30 years.
The formal signing was initially planned for January, but Trump said he decided to move up the date after being displeased with media reports.
"I watched the news this morning and they were all saying, will he keep his promise, will he sign it by Christmas?" Trump told reporters gathered in the Oval Office. "And I called downstairs and said 'Get it ready, we have to sign it now,'" he added.
On Twitter, Trump marked the occasion by claiming that nearly all US-Americans "will pay less or, at worst, the same amount of taxes" adding a jab at the Democrats, saying "the Dems only want to raise your taxes!"
Trump, who previously vowed to push through the tax cuts by Christmas, was originally expected to sign the bill at a formal ceremony in early January, flanked by Republican lawmakers.
Both the Senate and the House of Representatives passed the bill on Wednesday.
Trump also signed into law on Friday a short-term funding bill that will keep the US federal government running until January 19, averting a possible government shutdown.
Trump celebrates legislative win
The tax code overhaul is the first major legislative victory of Trump's presidency. The reform will reduce corporation tax from 35 percent to 21 percent permanently, while lowering personal income tax rates (which vary by income) for a period of 10 years.
"It's going to be very good for the American people and fantastic for the economy," Trump told reporters.
The new tax law also repeals a measure created by his predecessor President Barack Obama that requires all US-Americans to have a health insurance plan or pay a fine.
The requirement was one of the key provisions of Obama's healthcare law, which Trump and Republican lawmakers failed to repeal this year.
Democrats have unanimously opposed the bill, saying it mainly benefits businesses and the wealthy.
Shortly after signing the tax bill into law, Trump left the White House to go to his resort in Florida for the holidays.