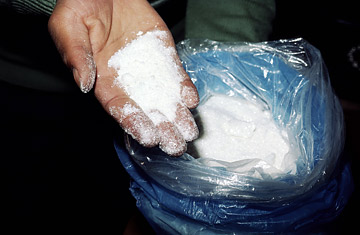 GUATEMALA CITY/TEGUCIGALPA (Reuters) – Cocaine production is beginning to creep into Central America, a development which could bring the supply of the drug closer to the United States and create a new security risk for an already troubled region.
Guatemala made its first official discovery of a field of coca plants this May following the initial find of a plot in Honduras last year. Two more followed in Honduras this year.
"We aspire to have control of our territory, but it's very difficult to root out these actions," Jaime Quintanilla, head of the anti-drug trafficking unit in Honduras, told Reuters.
At around 50 hectares in total, the four coca finds were a tiny fraction of the 171,000 hectares under cultivation in Colombia last year, according to Reuters interviews with local officials and official Colombian data.
Honduras and Guatemala, together with El Salvador, are among the poorest and most gang-ravaged countries in the Americas. Mass migration from the region to the United States has created tensions with U.S. President Donald Trump.
Quintanilla said the fields cultivated in Central America were trials by cartels to explore saving transportation costs and reducing the risks of moving the product from Colombia or other major cocaine-producing countries like Bolivia and Peru.
Authorities expect more to follow.
"This is going to continue," a Guatemalan police official said, requesting anonymity because he was not authorized to speak publicly. Detection is difficult in Guatemala, where some mountain regions have barely been charted, he said.
It took an anonymous tip and a 10-hour trek through the Guatemalan jungle for police to find 75,000 coca plants in May across less than hectare of land in an area known as Alta Verapaz, the official added.
Guatemala's government declined comment on the coca finds, as did the U.S. embassies in Honduras, Guatemala and El Salvador.
Hot and humid, Alta Verapaz is straddled by mountains up to 2,500 meters high, similar to the Andean parts of the Amazon basin where cultivation of coca is most widespread.
Honduras and Guatemala are short of funds, plagued by corruption and have little experience in tracking coca cultivation, making their large tracts of inaccessible land ideal for drug traffickers looking for new hideaways.
"Colombia has teams of eradicators moving around the country … and laws to restrict import and commercialization of chemical precursors needed to convert coca leaf into cocaine," said James Bargent, an analyst at InSight Crime, a foundation that analyses organized crime. "Honduras has none of that."