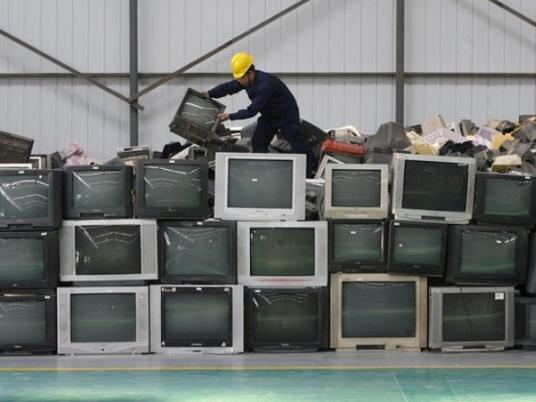 As technology advances, causing prices to drop and new forms of media to become obsolete, a modern form of extremely hazardous waste has been piling up — much to the detriment of communities and the environment.
Electronic waste, or e-waste, is a loose term used to describe any electronic device that is no longer useful, such as old computers or mobile phones. Anywhere from 20 million to 50 million tons of e-waste are produced globally each year, according to a 2009 United Nations study, and that number has since increased.
Many electronic products contain hazardous elements, such as mercury and lead. When they are not properly discarded as hazardous waste and end up at regular garbage dumps, they not only leak into the surrounding environment, but will ultimately be consumed by communities, causing diseases such as cancer.
To be disposed of properly, electronics need to be dismantled into their basic components — a computer, for instance, would be separated into its hard drive, wires, chips and casing. Items that can be reused can be sold, and unusable or hazardous waste should be sent to a recycling factory or a hazardous waste facility.
Various policies and services have been put in place over the past decade in the developed world to minimize poor disposal practices for e-waste. But developing countries such as Egypt, which usually suffer the most from e-waste dumping, not only do not have such protocols, but the knowledge about e-waste hazards is almost zero.
That's why TVs, computer screens and other electronics are commonly found in garbage dumps in places such as Manshiyet Nasser and Saqqara.
"Everything from televisions to batteries is dumped with the rest of the normal waste," says Ezzat Naiem, director of the Spirit of Youth for Environmental Services NGO. "With medical waste, like syringes, it's easy to explain to communities why they are hazardous, but with a TV screen, it's more difficult."
To counter this, two e-waste management initiatives have developed over the past year and a half — RecycloBekia and Ecycle. They hope to create awareness, collect e-waste, and seek ways to properly manage it.
Both initiatives are business-oriented and hope to establish themselves as for-profit companies in the future. But, for now, their eyes are set primarily on pushing the vision of the initiative, as revenue is still nonexistent.
RecycloBekia, started by a group of Tanta University engineering students in March 2011, is the larger of the two.
"We used computers a lot and, looking around at our surroundings, we realized that it was a crucial issue that nobody else in the whole country seemed to be addressing or even aware about," says Mohamed Sehsah, RecycloBekia's media manager.
He says that 50 people now work in the company. The team began its work by networking and collecting e-waste personally, by hand — from individuals, companies and garbage dumps — and has collected tens of thousands of computers and old electronics. This amounts to tons of e-waste.
But, Sehsah says, RecycloBekia discovered that the best way to address the problem of e-waste in Egypt is to intervene in the black market, which he says is huge.
"Going around to individuals and dump sites turned out to be slow and problematic. We had to get to the source," he says. "We soon discovered black market storages with hundreds of thousands of items. Traders would usually remove what they needed from the e-waste to sell, and then dump the rest in the trash or anywhere."
RecycloBekia's current focus is on intercepting this market and providing environmentally friendly financial alternatives for those working in it.
In September, due to a lack of national electronic recycling facilities, RecycloBekia exported more than 6,000 computer hard drives to China to be dismantled and recycled properly.
"There weren't really the facilities in Egypt at the time, and Chinese recycling companies were offering to pay for them, so it seemed like the best thing to do," says Sehsah.
Now, however, the Egyptian Electronics Recycling Company has opened and has adequate facilities, "so we are now focusing on keeping e-waste management local," Sehsah says.
RecycloBekia aims to function as a mediator between those looking to dispose of e-waste and the recycling facilities — in other words, as a robabekya service for e-waste, as the name suggests. Robabekya salesmen buy goods that people don't want and sell them.
Aside from tackling the black market, RecycloBekia has also signed deals with companies such as InfoFort and Raya Integration, offering stamped, environmentally approved certificates to the company in exchange for their e-waste.
Despite RecycloBekia starting out by collecting, storing and dismantling e-waste itself, the group recently received significant interest from investors and entrepreneurial competitions.
Together with Khaled Ismail, managing director of Intel in Egypt, and Hussein Sheikh, an investor, RecycloBekia has signed investment deals of about LE1 million, offering up to 40 percent of the company shares.
Following this, the company rented an office and warehouse in the Cairo suburb of Maadi. Sehsah says that as the company grew, it was important to get to the source of the issue — namely, Cairo, the country's capital.
As more money rolls in, RecycloBekia hopes to start mass awareness campaigns for companies and individuals, something the group has only done thus far on a small scale. It hopes to eventually go regional and bring e-waste recycling to the attention of the region.
The other initiative keen on tackling the country's e-waste problem, Ecycle, is significantly smaller than RecycloBekia, having only launched in March. But its vision and ambition is just as strong.
Six Cairenes in their 20s, who also noticed the e-waste problem going unaddressed, started the service. They have been collecting items themselves and storing them in a friend's basement until they can reach a deal with the Egyptian Electronics Recycling Company. So far, they have collected about 500 kilograms of e-waste by hand.
Ecycle has also signed deals with multinational companies and groups such as Orange and the Food and Agriculture Organization, offering similar certificates to the companies in exchange for e-waste.
Mostafa Zayed, one of Ecycle's founders, says many companies and individuals often store lots of old electronics that they don't want to throw away but don't know what to do with.
"Approaching these companies and people has been our focus so far," he says.
Both RecycloBekia and Ecycle say the only way to manage e-waste properly was to take matters into their own hands, since, even without the current political turbulence, the government cannot manage the country's regular waste.
"Of course this is a matter that has to be addressed by individuals, not the government," says Naiem, the director of the environment NGO. "It's good that people are looking into it seriously while it is still in the [relatively] early phases, before news of communities being affected appears in a few years' time. However, it is definitely likely that communities are already unknowingly being affected."
This piece was originally published in Egypt Independent's weekly print edition.