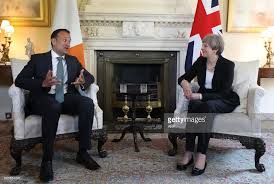 Irish Prime Minister Leo Varadkar said on Monday it was not possible to say that Britain had made sufficient progress to move onto the next phase of Brexit talks with the European Union, adding there was a "bit of a way to go yet".
"When it comes to making a recommendation as to whether sufficient progress has been made, it's too early to say. That's a decision that will be made by the 27 prime ministers including me when we meet in Brussels in October," Varadkar said after a meeting with British Prime Minister Theresa May in her Downing Street office.
"It's possible that between now and the decision point in October that may happen. I don't think at this stage it would be possible to say that sufficient progress has yet been made."
Varadkar said it was important that Britain had committed to not having any physical infrastructure on the border between the Irish Republic and Northern Ireland.
He also said neither he did not believe there would be any advantage in having another election in Northern Ireland to solve an impasse in the British province after a power-sharing coalition collapsed in January – but added that he did not favor a return to direct rule from London.