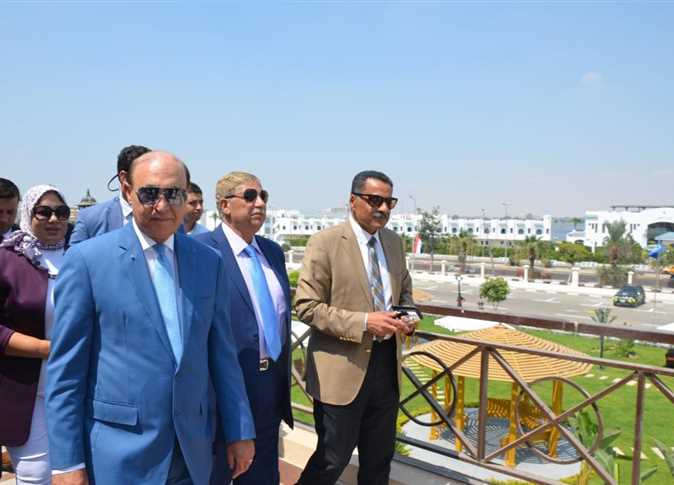 The East Port Said Development company (EPSD) has signed two agreements on Tuesday worth €70 million of investments with local subsidiaries of Germany's Business Avenue Group (BAG) and security systems manufacturer Gerda Egypt, according to a Suez Canal Economic Zone (SCZone) statement.
The agreements were signed in the presence of Chairman of the Suez Canal Authority Mohab Mamish, and Chairman of East Port Said Development Company Karim Samy.
The first agreement was to produce and market irrigation systems using the latest technology, to help conserve water and limit waste. The agreement is expected to create over 300 jobs, and was signed with East Port Said Company, a BAG subsidiary, with investments worth €55 million over a land of 30,000 square meters.
Meanwhile, the second agreement was to manufacture and market armored doors and locks, using high-rigidity and rust-free materials. The agreement with Gerda Egypt will involve a new factory on 20,000 square meters of land, cost €15 million, and allegedly create over 150 jobs.
The agreement comes as part of the EPSD's new developmental projects, allocated to the company by the SCZone in order to attract a number of foreign investments and establish new projects in the area. The 16-million-square-meter region will be developed in multiple stages within the next five years.
Work on both projects will begin in November, after the Engineering Authority of the Armed Forces finishes treating the soil for construction.
In his speech, Mamish thanked President Abdel-Fattah al-Sisi for his investments in the SCZone in general, and East Port Said particularly. He promised the president that the zone would be among the strongest economic spots in the world.
Sameh Ateia, Managing Director of EPSD, added that these contracts with the first industrial investors in East Port Said show the feasibility of serving the local market through European investment – and reflect the region's ability to compete in export markets from the Mediterranean to Europe.
Egypt signed an agreement with BAG last year to construct five tractor and bus factories in the industrial zone, over an area of 40,000 square meters.