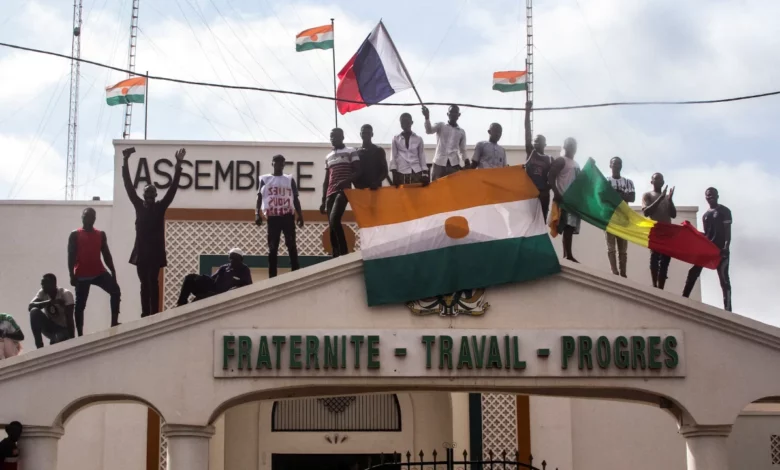 CNN
 —  West African leaders on Thursday ramped up the rhetoric against Niger's coup leaders, ordering the "activation" and the "deployment" of a regional standby force to restore constitutional order in the coup-hit country.
Meeting in Abuja, Nigeria after the expiration of the one-week ultimatum they gave to the Niger's military junta, leaders from the Economic Community of West African States (ECOWAS) called for a deployment "to restore constitutional order in the Republic of Niger," according to a statement read by Omar Alieu Touray, President of the ECOWAS Commission.
It was not immediately clear what the "deployment" and "activation" of the force would entail. The statement also emphasized a "determination to keep all options on the table for the peaceful resolution of the crisis."
Niger has been engulfed in political chaos since late last month, when President Mohamed Bazoum was ousted in a coup d'etat by the presidential guard. ECOWAS responded days later by enacting sanctions and issuing an ultimatum to the ruling military junta: stand down within a week or face a potential military intervention.
That deadline came and went on Sunday, August 6, without any change in the political situation. ECOWAS leaders have said their preference is to find a diplomatic solution to the crisis and would send in troops as a last resort.
The regional bloc will "uphold all measures and principles agreed upon by the extraordinary summit held on Niger on 30th July 2023," at which strong sanctions were decided against the military junta in Niger.
Touray also warned of consequences for "member states who by their action directly or indirectly, hinder the peaceful resolution of the crisis."
In a separate televised interview, Ivorian President Alassane Ouattara revealed that all heads of ECOWAS, which is made up of 15 countries, had tried dialogue with the junta, but was told they would keep the president "as a hostage".
"We cannot let this continue, we have to act," Ouattara said.
He said the military junta should fight militants "and not try to kidnap a democratically elected president," adding that he had instructed his country to mobilize troops in anticipation of the ECOWAS operation.
Mali and Burkina Faso, led by soldiers who seized power, have expressed solidarity with Niger's junta and warned that any military intervention would be seen as a declaration of war. Guinea has also said it backs Niger.
Niger's armed forces appeared to be preparing for possible military intervention this week, a military source told CNN. A convoy of about 40 pick-up trucks arrived in the capital at nightfall on Sunday evening, bringing troops from other parts of the country.
Confusion and concern
Several analysts told CNN that a military intervention in Niger would probably not be imminent, as it takes time to assemble the ECOWAS troops.
The communique is "about mobilizing the required resources should an intervention be needed, but it's also a signal to the junta in Niger that ECOWAS is prepared to take necessary actions including force should talks fail," Abuja-based defense and security analyst Murtala Abdullahi told CNN.
The bloc did not give any timelines and Nigerian president Bola Tinubu who's the current chair maintained that the use of force would be a last resort. However, the news could be received in more urgent terms in Niger, security analyst Abdourahamane Alkassoum told CNN, pointing out that the Nigerien military has been gaining support locally as ECOWAS continued to talk tough.
Another expert recalled that it took 7 weeks for ECOWAS to deploy to Gambia in 2017 – a less complicated mission than Niger would be.
"The mission to Gambia was much more straightforward," says Cameron Hudson, a senior associate at the Center for the Strategic and International Studies. "Niger would not be just an intervention, it's a hostage rescue of a president who is under house arrest and being used as a human shield by the junta.
"Niger has a significant army trained by the US, battle-tested from years of a counterinsurgency," he added.
CNN's Larry Madowo, Mohammed Tawfeeq and Mylene loubiere-Anderson contributed to this report.