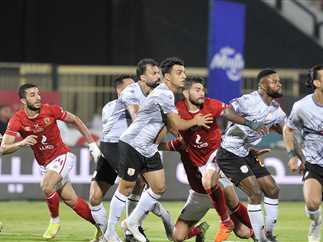 Ehab al-Komy, a member of the Egyptian Football Association Board of Directors commented briefly on the resignation of former head of the Referees Committee with the EFA, Mark Clattenburg, describing it as a "crisis of morals".
"We were seeking to develop the Egyptian arbitration system, and the current crisis is a crisis of morals among members of the sports system.
Some want victory for clubs at the expense of morals," he told the "Box to Box" program.
"No league in the whole world suffers from exchange of insults except in Egypt.
Arbitration errors occur in any tournament.
We were seeking to develop the arbitration system through Clattenburg.
We held two meetings with him this week and one of them was in the presence of the League [representatives]," Komy added.
"We wanted to develop the referees in order for them to be present in the world championships and to promote young referees.
So we asked him to hold informative lectures, address errors, watch second-division matches and have a special committee selected for sector referees," Komy continued.
"Clattenburg must come out and announce who  the EFA member who asked him to contact an official in a club, so that this member leaves immediately the EFA," Komy added.
"Clauttenberg asked us to intervene to protect him after the severe attack against him.
So we referred the matter to the Disciplinary Committee," Komy said.
The EFA respects all its contracts, and accordingly, Clattenburg will take his legal rights, said Komy, adding that more than one European referees have been nominated to replace Clattenburg.
"Clauttenberg was doing well, and we are determined to develop the arbitration system," Komy said.
It was a major crisis Mark Clattenburg, head of the main referees committee of the Egyptian Football Association, resigned from his position after the  rumors and other incidents occurred. 
Clattenburg's departure came at a time when the Zamalek Club was facing successive defeats.
There was subsequently great pressure from the Egyptian club supporters and club president Mortada Mansour on the referees.
The British 'The Sun' newspaper wrote a report entitled "Mark Clattenburg forced to flee Egypt after shocking abuse as club chief claims ex-Prem referee is in a gay relationship."
The newspaper added: "The Englishman has suffered harsh criticism and personal attacks from Mortada Mansour, the president of Zamalek Sporting Club."