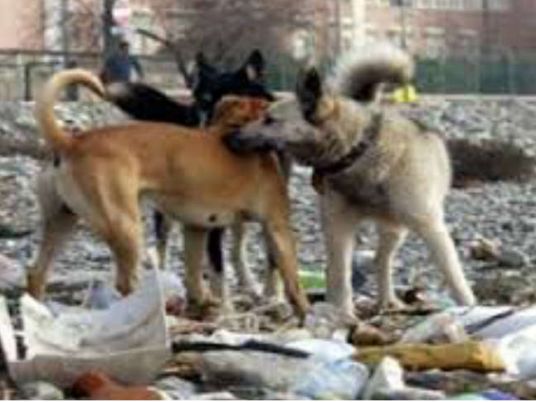 The General Organization for Veterinary Services of the Ministry of Agriculture has officially addressed the World Organization for Animal Health (OIE) on the spread of rabies disease in animals in Egypt.
Upon the official report submitted by Egypt, the OIE is expected to introduce precautionary measures, especially among stray dogs.
According to a report by the Health Ministry, the total number of deaths due to the disease reached 200 deaths over the past 4 years.
Multiple communications are filed daily by government agencies and individuals because of the danger of stray dogs, the report said.
The results of the analysis conducted by the Animal Health Research Institute on a sample from a cow suspected of having contracted the disease, as a result of being bitten by a stray dog in a cattle barn in Beheira, showed that the cause of its death was the rabies virus.
The Ministry of Agriculture is preparing the first database on the number of stray dogs in Egypt; the reasons for their increase; and the means of reducing their spread and risk.
The Ministry of Health report said that over one million and 360 thousand people ran the risk of being infected by rabies due to dog bites over the past four years, with an annual average of 370,000 cases.
The cost needed to control stray dogs is one and a half billion Egyptian pounds, in light of the large increase in the number of dogs on the streets, as well as the high number of diseases (300) potentially transmissible from dogs to humans, official sources with the Agriculture Ministry said.
The sources added that Egypt has over 15 million stray dogs that could reach 60 million soon if not controlled.
The General Organization for Veterinary Services continued its plan to combat the rabies disease, which began two years ago, by the vaccination of registered dogs and cats, numbering 25,000, as well as the vaccination of animals in contact with dogs in rural areas.
The official report of the Veterinary Services Organization said it addressed the Health Ministry on the spread of ticks among stray dogs, which transmit blood diseases from dogs to humans.
It warned that more than 300 diseases are transmissible from dogs to humans, among them scabies, tuberculosis, brucellosis and toxoplasmosis.
Edited translation from Al-Masry Al-Youm