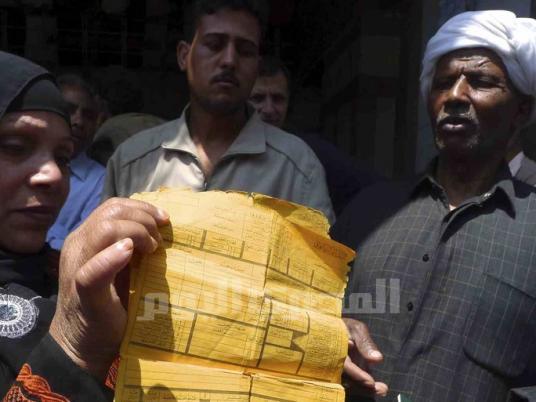 Prime Minister Hesham Qandil's recent visit to Iraq may mark the beginning of a new era in a history of tumultuous relations between the two countries, with a strong focus on bilateral trade and investment.
The push to bolster economic ties is mainly based on oil cooperation, as Egypt eyes Iraq's rich fields in a bid to plug the widening gaps in its own energy supplies.
Iraq will start supplying Egypt with 4 million barrels of Basra crude oil per month, according to an agreement signed during the Egyptian delegation's visit in early March. Iraq will also supply 4,000 tons of diesel fuel to Egypt on a daily basis.
Egypt produces 22,000 tons of diesel fuel per day, while its daily consumption amounts to 35,000 tons, according to Petroleum Minister Osama Kamal.
Egypt has also proposed a bid to refine Iraqi oil in its refineries via a pipeline that will be extended between both countries by passing through Jordan. Its estimated investment cost will be about US$17 billion, said Industry and Foreign Trade Minister Hatem Saleh.
Bilateral economic ties will also focus on areas of infrastructure, electricity, roads, housing, health and construction. At the same time, talks are under way between Saleh and his Iraqi counterpart to lift a ban on Egyptian dairy imports, according to the State Information Service.
Eman Ragab, international relations researcher at Al-Ahram Center for Political and Strategic Studies, says the economy is the main driver of Iraq-Egypt relations.
The presence of Egypt's ministers of petroleum, foreign trade and industry, planning and international cooperation, as well as manpower and immigration, along with 60 Egyptian businessmen, on the delegation was a clear sign that economic issues were to take center stage during Qandil's visit with his counterpart, Nouri al-Maliki.
Both countries face pressing domestic challenges. Iraq is a country under reconstruction amid ongoing political unrest, while Egypt is confronting its most acute economic slump in decades in a climate of political polarization. Egypt is on a vigorous search for new markets for its companies along with potential destinations for its large labor migrant pool.
While there is also a conspicuous political motive behind concerted efforts to boost bilateral relations, at the end of the visit, the more concrete results fell on the side of economic cooperation, with little detail about any political agreements.
Ragab argues that President Mohamed Morsy is trying "to be more pragmatic with Iran and Iraq than [Hosni] Mubarak was in the last decade."
In a joint news conference, Qandil and Maliki said vaguely that they share a common understanding of regional issues. An official statement said Egypt and Iraq have "identical views" when it comes to political issues concerning the Arab world.
Political economy
Economic ties between Iraq and Egypt have been meager in comparison to other nations, mainly due to a bumpy history of political relations. The volume of trade between both countries amounted to $400 million in 2011, versus more than $3 billion before 1991.
During late President Gamal Abdel Nasser's rule, Ragab says, the relationship was characterized by competition over which country would lead the Arab world. Following Anwar Sadat's signing of the Camp David Accords, Iraq led the call to boycott Egypt, and hosted an Arab summit to ostracize the country for its treaty with Israel.
While relations improved in the 1980s as Egypt supported Iraq in its war against Iran, they again soured in the early 1990s when Egypt supported military intervention to get Iraq out of Kuwait in the first Gulf War.
When relations were cordial, scores of Egyptians migrated to work in Iraq and trade exchange peaked. The shift that came with the first Gulf War, however, saw Egyptian migrants in Iraq targeted by the regime, and they were forced to return home in droves.
Thus began what is known as the yellow remittances crisis, as Egyptian migrant workers' money was blocked by the Iraqi government.
After Qandil's visit, Egypt and Iraq said they were finalizing a deal for a compensation package estimated at $1 billion for Egyptian workers who were not paid remittances during Iraq's 1990 invasion of Kuwait. Despite several announcements like this since the 2011 uprising promising to solve the crisis, many are still eagerly awaiting their owed remittances.
During the last decade of Saddam Hussein's rule, Egypt and Iraq partially patched up ties, with Egypt becoming Iraq's fourth-largest business partner. Pragmatism waned with Saddam's fall as Mubarak became increasingly wary of the Shia ascent in the region.
Economic relations deteriorated further as the US invasion of Iraq brought years of instability. In 2005, the kidnapping and murder of Egyptian Ambassador Ihab al-Sherif was a breaking point.
Ragab says Morsy is employing a different strategy. While relations with the US, Saudi Arabia and Qatar remain Egypt's core alliances, the president has made controversial strides toward restoring long frozen ties with Iran.
Though less contentious, bolstering Iraq relations is also a shift from the policies of the previous regime.
Besides the economy, she adds, "cooperation in academic and research fields are the main areas of focus."
A new focus
During the joint news conference, Maliki confidently said, "The Iraqi market is open to Egyptian companies."
But Egyptian businesses operating in Iraq still face challenges in penetrating the Iraqi market, and expressed doubt that Qandil's visit will bring significant improvements.
George Amin, chairperson of Luna Group, has been doing business in Iraq for more than 15 years. His last visit there was in 2003, before the war, as part of an official Egyptian delegation. "That visit was not a 24-hour one like this one. We visited each ministry, where we could [discuss] and solve our problems. This was not the case here," he says of Qandil's visit.
Telling stories of doing business in Iraq, he says, "Corruption is everywhere."
"The higher you go in society, the more it is. It has not changed at all with the new regime," he says.
He opened a factory in Iraq before the war, and built it on a plot of land he bought at a price set by authorities. After the war started, there were repeated demands for a higher price per square meter.
His factory was bombed during the war. He never rebuilt it, but has continued to do business there by exporting his company's goods.
"But there are a lot of tricks," he says. Government tenders demand unrealistic quality-to-price ratios. In other words, he claims, those who bribe the most win the tender.
"I cannot afford it," he adds.
He describes obtaining the necessary documents to ship his products to Iraq as administrative hell, and says the country's port in Basra is haven for corruption.
"If you do not bribe heavily, they will not let your cargo out, while Iraqi buyers impose high delay penalties," he adds.
Payments often arrive six months to one year later, while Iraqi letters of credit are rarely applicable in Egypt.
Of Qandil's short visit, he says, it was "100 percent useless."
It may be that the higher-level agreements will bear the most fruit. With a oil deal in the works, Egypt could have much-needed access to an affordable inflow of crude, helping the net importer as it struggles to import supplies due to dwindling foreign reserves, a depreciating pound and a shortage of dollars on the market.
Still, experts point to numerous obstacles with this project as well as refining plans. The pipeline's sizeable investment cost of $17 billion is seen as prohibitively high, along with the added cost of building the refineries.
Iraq's ability to export the stated quantity is also questionable, since its total oil exports do not exceed 3 million barrels per month.
For Amin, the Egypt's premier's visit to Iraq will not put an end to the challenges he faces.
This piece was originally published in Egypt Independent's weekly print edition.