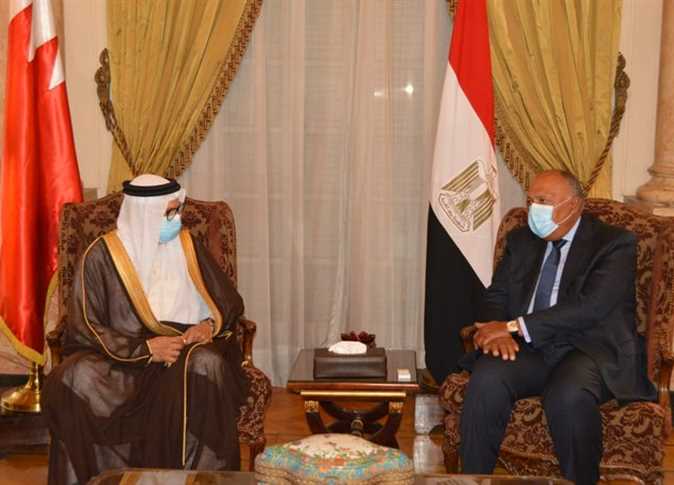 Egyptian Foreign Minister Sameh Shoukry on Saturday said that the security of Egypt and the Arab Gulf is integral to overall Arab national security.
His remarks came during a meeting with Bahrain's Minister of Foreign Affairs Abdullatif bin Rashid al-Zayani, as the two ministers held an official talks session at the Egyptian Ministry of Foreign Affairs in the presence of delegations from the two countries.
Egypt stressed its position in support of Bahrain and all Gulf nations in facing any threats to its security and stability.
The two foreign ministers agreed to take more measures to enhance economic, investment and trade cooperation between the two countries during the coming period, proportionate to the great potential and opportunities available in both countries.
Shoukry and Zayani also affirmed the solidarity between both nations in facing any foreign intervention undermining the region's security and stability.
They agreed on coordinating positions regarding the next meeting of the Arab League at the ministerial level in order to achieve the interests of both countries and support joint Arab action.
The talks also dealt with the most prominent challenges in the region, particularly developments in Libya and Palestine.
The two ministers welcomed any initiatives seeking comprehensive and just peace for Palestine based on international legitimacy.
They both stressed the need to preserve  the principles of the two-state solution, stop any attempts at annexing Palestinian territories and continue support all efforts to achieve peace in the region.
Regarding Libya, the two ministers also put forward their support for a consensual political solution which preserves the sovereignty and unity of Libya, meets the desires of Libya's people for stability and confronts terrorism and any destructive foreign interference.
Both ministers expressed their nations' support towards the current call for a ceasefire, the formation of a new presidential council and a fair distribution of wealth in the country.
Edited translation from Al-Masry Al-Youm