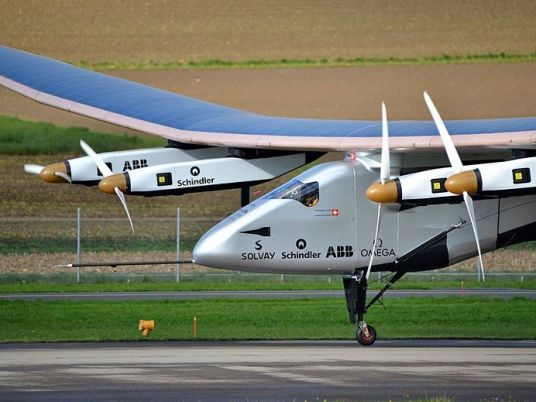 Egypt's Aviation Ministry announced Friday that it is preparing a good-bye ceremony for the solar-powered plane Solar Impulse 2, which arrived in Egypt on Wednesday for its final stop before heading to Abu Dhabi on Sunday, completing its world tour.
The experimental plane had completed the first solo transatlantic flight to land in Spain last month, and will continue from Cairo to Abu Dhabi, where it began its marathon journey in March last year.
The aircraft has 17,000 solar cells on its wings, which recharge the plane's batteries throughout the day. The wings are 72 meters long, giving the aircraft a stunning, slimline appearance.
Solar Impulse 2 took off from Abu Dhabi on March 9, 2015 and flew eastwards across Asia, clocking up around 18,000 km.
In March, when the announcement was made that Egypt would receive Solar Impulse 2, Civil Aviation Minister Hossam Kamal welcomed the idea, saying the craft is an important development in the civil aviation industry due to its potentially positive impact on the natural environment.
He expressed an interest in exploring new technical developments within the aviation industry, especially those related to promoting environmental protection through renewable energy sources.
Sources within the ministry said the farewell party will be held at Cairo international airport at 12:30 a.m. Sunday, and the plane is due to take off at 3:00 am.
Aviation Minister Hossam Kamal and some of cabinet members will attend the party as well as the Swiss Ambassador to Egypt.
Edited translation from Al-Masry Al-Youm