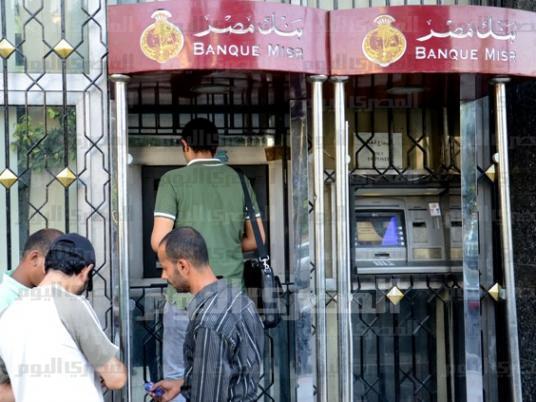 Egypt has ordered banks to prevent customers from using debit cards based on their Egyptian pound accounts when they go abroad, a central bank official said on Wednesday, a move to combat the country's acute foreign currency shortage.
"We sent a letter to bank chiefs today to stop the use of debit cards outside the country. As for credit cards, it is business as usual and each bank sets their own limit for their clients," a central bank official told Reuters by telephone.
Egypt depends on imports for everything from food to fuel. But it has suffered from a shortage of dollars in the banking system to pay for those imports since a 2011 uprising drove away tourists and foreign investors, crucial sources of hard currency.
Many import businesses now rely on the black market, where they can get hard currency for a higher price. The pound's rate on the black market has weakened since the central bank devalued the Egyptian currency in March, at which time it was roughly in line with the official rate.
"Please ensure that debit cards, including pre-paid cards, issued in local currency by Egyptian banks are only used within the country," a central bank letter viewed by Reuters said.
Debit cards for accounts in foreign currency can still be used abroad up to a limit of $100,000 as per a 2014 directive, the letter added.
"Several banks have implemented limits on payments abroad in foreign currency for their clients that have Egyptian pound accounts because there was massive fraud on the part of the clients," Central Bank Governor Tarek Amer told Reuters.
"Clients would use their debit cards to get massive amounts of dollars, sometimes reaching billions, for reasons other than travel, tourism or shopping," Amer said.
The central bank devalued the pound to 8.78 per dollar in March and raised interest rates by 150 basis points days later to control inflation. But prices have continued to rise and the pound remains under pressure on the black market. Three traders cited a black market rate of 11.05 to 11.08 pounds per dollar on Tuesday.
The bank has kept the pound artificially strong since the devaluation. While it announced a more flexible exchange rate policy at the time, it soon resumed its tight control of the currency. Dollars are rationed through weekly auctions, giving priority for imports of essential goods.
"We have started implementing the central bank's directive as of today," one state-owned bank chief told Reuters.
Heads of several other state-owned as well as private banks said they had asked the central bank for a few days to implement the directive, however.