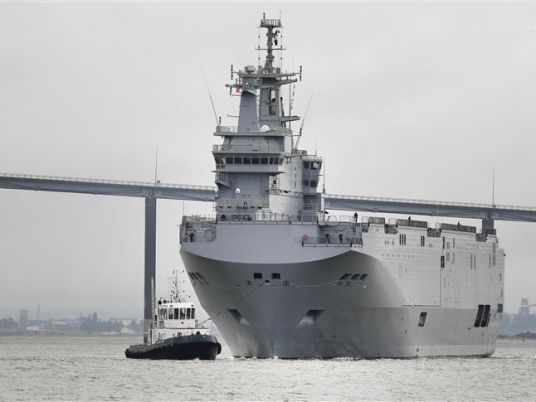 Egypt became the world's fourth-biggest weapons importer, spending almost US$2.3 billion, in 2015 the consulting company IHS Inc. said in its Global Defence Trade Report.
Before 2013, the country spent $1 billion or less annually, but "there's been this ramp-up," according to Ben Moores, a senior defense analyst at IHS Aerospace, Defence & Security, who wrote the report.
IHS research indicates the higher spending is being underwritten by Egyptian allies France and Gulf Arab states, Moores added in the report published on Sunday.
Egypt's economy has struggled since the 2011 ouster of former President Hosni Mubarak. The country's net foreign reserves stood at $17.52 billion at the end of May, less than half the $36 billion it had before the 2011 uprising.
Under President Abdel Fattah al-Sisi, Egypt has purchased weapons from both France and the United States, despite a temporary block on arms exports from the US. The French imports include Rafale fighter jets and the FREMM-class frigate.
Earlier this month, Egypt raised its flag aboard the first of two French Mistral-class helicopter carriers at a handing-over ceremony at the French port of Toulouse. France has also agreed to supply satellite communications technology to Egypt and recently signed a new arms deal worth over $1 billion.
Contributions from the United States include F-16 fighter jets and M1A1 Abrams tanks, a staple of the Egyptian miltary for several years. Egypt has also made weapons deals with Russia and Germany, part of an overall policy of diversifying the sources of military and security support.
The list of the world's five biggest arms importers in 2015 included respectively: Saudi Arabia, India, Australia, Egypt, and South Korea.
Iraq spent almost as much as Egypt as it shifts money from operations and personnel toward procurement, IHS said. The country is battling Islamic State militants in long-troubled Anbar province and is preparing for the eventual battle to retake the northern city of Mosul.
The annual Global Defence Trade Report observed a surge in weapons purchases by Saudi Arabia, leading a coalition of nations fighting in Yemen, which helped push global arms sales up more than 10 percent last year.
The world defense market climbed to $65 billion in 2015, up by $6.6 billion from 2014, the report said. That's the largest yearly increase in the past decade, according to the Englewood, Colorado-based company. While Saudi purchases jumped about 50 percent to $9.3 billion, growth was seen across much of the Middle East and Southeast Asia.
As middle-income countries see increases in their gross domestic product, they have more "relative resources" to spend on military equipment, according to Moores. The study examined trends in the global defense market across 65 countries.
The boost in Saudi weapons imports came as the kingdom led a coalition targeting Shiite Houthi rebels in Yemen and as it works to counter its regional rival Iran. Saudi Arabia's purchases in the past year include Eurofighter Typhoon jets, F-15 warplanes and Apache helicopters, as well as precision-guided weapons, drones and surveillance equipment, Moores said.