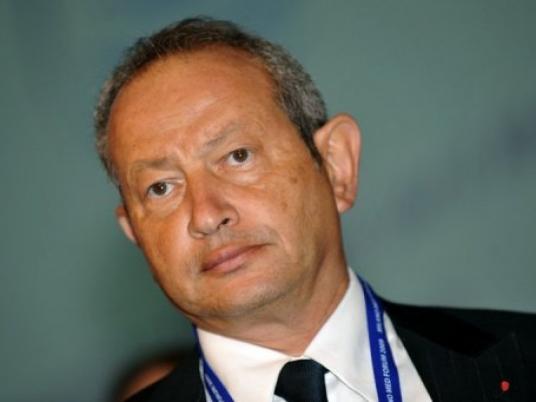 Egyptian tycoon Naguib Sawiris, whose family controls the sprawling Orascom corporate empire, says he and his brothers will be "investing in Egypt like never before" after the ousting of a president he accused of bullying opponents to his rule.
Sawiris, a prominent Christian who was an outspoken critic of President Mohamed Morsy, told Reuters the Islamist leader's government had sought to co-opt executives or, as in his case because he was in opposition, hit his family businesses with exceptional taxes.
The eldest of three billionaire brothers, Sawiris spent much of the past year in self-imposed exile, returning to Egypt in May after officials cleared Orascom Construction Industries (OCI), run by brother Nassef Sawiris, of tax evasion.
The Orascom group of companies is one of the biggest private sector employers in Egypt – providing more than 100,000 Egyptians with jobs according to Sawiris, who now runs a new investment firm Orascom Telecom, Media and Technology.
"My family and myself are going to be investing in Egypt like never before – any new projects where we can invest, any new factories that we can open, any new initiatives that will provide jobs for the young people of Egypt," he said, although he did not give any specifics.
"I am very very sure that Egypt will come back very strongly now," he said in a telephone interview on Sunday from a yacht off the Greek island of Mykonos, where he was on vacation.
The remarks by one of Egypt's top businessmen could help rebuild confidence in a nation buffeted by political turmoil for two and a half years. Bankruptcy was averted when Gulf states poured in aid after the army ousted Mursi on 3 July, responding to protests by millions of Egyptians.
Investors have been spooked and tourists have stayed away since an uprising brought down President Hosni Mubarak in February 2011, who like Morsy was given a push by the generals, hammering two of Egypt's main sources of foreign currency.
"There are two opinions, one that the people who went down on 30 June should go back to the squares, my point is we should go back to our work and build our country," he said, referring to the date that marked the start of mass rallies against Morsy.
After Morsy's ouster and with the economy on the ropes, Sawiris said he had lobbied government officials in Kuwait and the United Arab Emirates, which had held back aid to Egypt under Morsy, to offer swift support and help for the next few months.
"It was not like I needed to convince them too much, they were already convinced," said Sawiris, who made a fortune with Orascom Telecom, selling most of those assets to Vimpelcom in 2010 in a $6 billion deal.
Shortly after the army stepped in, the UAE and Kuwait offered $3 billion and $4 billion respectively, to the government, partly to help boost its reserves. Saudi Arabia offered $5 billion.
"If Egypt falls, or goes into turmoil, the whole Middle East goes down the drain. So they are defending also their countries also by helping Egypt," he said.
Sawiris, who helped found and finance the liberal Free Egyptians party that is part of a coalition that opposed Morsy, said Morsy's government had offered him the post of Cairo governor early in the president's term, but turned it down, seeing it as a bid "to buy me out."
Unlike his brothers, who have steered clear of public politics, Sawiris was a vocal critic and has stakes in a television channel and a prominent independent newspaper that have broadcast or published broadsides against Mursi's rule.
"My family actually paid the price of my challenge," he said, citing what he called an "unlawful" tax imposed on OCI as it was moving its listing from Egypt to the Netherlands.
"They were bullying us. They were bullying me, they were bullying my family they were bullying … any businessman who dared to stand in their way," he said.
Alongside OCI which has cement and fertilizer plants and an international construction business, a third brother, Samih Sawiris, runs Orascom Development Holding, operating tourists resorts and real estate projects in Egypt and Europe.
Sawiris said international businesses should invest now, while many are still nervous about prospects.
"I know it is going to be stable, so you always make the most of your money when you move first," he said.