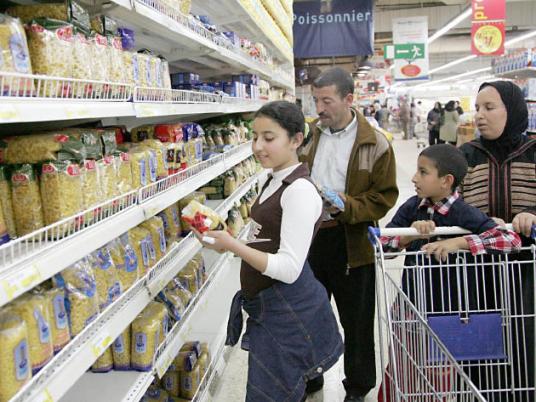 The Egyptian government is planning to increase subsidies on household goods to prevent soaring prices resulting from an imminent currency devaluation, government sources told Al-Masry al-Youm on Monday.
The ministries of supply and trade have started a wide-scale stock-check of over 15 household goods, including subsidized items included in the ration-card system. The goods include wheat, rice, cooking oil, sugar and beans.
The ministries are seeking to estimate the reserves of subsidized commodities, in order to prepare suitable price control measures, such as increasing subsidies, the sources said.
The government is expected to boost subsidies for both domestic purchases and imports, with the changes applied once the Central Bank of Egypt (CBE) moves to devalue the Egyptian pound against the dollar, a move that many expect soon.
According to the sources, the plan to boost subsidies comes from President Abdel Fattah al-Sisi, who met on Saturday with CBE Governor Tariq Amer. During the meeting, Sisi stressed the need to keep the prices of household goods stable.
The sources said the decision to devalue the pound will be announced only once the commodities stock-take is complete and subsidy plans are in place, a process that could take two weeks.
The sources added that the government is coordinating price stabilization efforts with the Federation of Egyptian Chambers of Commerce, the Federation of Egyptian Industries, and big retail chains.
On Monday, the US dollar reached LE13.85 on the black market and LE8.9 at banks.