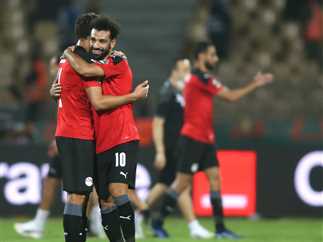 The Egyptian national football team will face its Cameroon counterpart in a difficult match on Thursday February 3, 2022.
The match will bring the Egyptian team closer to the eighth Africa Cup of Nations title.
The match comes as part of the fourth round of the Africa Cup of Nations competitions. Senegal qualified to finals after beating Burkina Faso 3-1 in the semifinals.
The Egyptian national team on Wednesday reported a drone that flew over the training ground, causing the Portuguese coach Carlos Queiroz to stop the practice, claiming that the drone was spying on behalf of the Cameroon team.
Egypt qualified for the round of four after beating Morocco in the quarter-finals 2-1, and earlier Côte d'Ivoire in the round of 16 after penalty kicks.
Egypt ended up finishing second in its group in the first round behind Nigeria.
The Cameroon side managed to win the quarter-final match against the Gambian team, 2-0, and the untamed Lions team topped its group in the first round.
The match between Egypt and Cameroon is scheduled on Thursday at 9 pm Cairo time, 10 pm Mecca time, 8 pm Cameroon time and 11 pm Abu Dhabi time.
The match is scheduled at the Olympic Stadium in the Cameroonian capital, Yaounde.
Channels that will broadcast the match are beIN Sports HD 2 Max, and beIN Sports HD 1 Max. Commentator on the match will be sports commentator Ali Mohamed Ali.
According to recent training, the expected formation of the Egyptian squad is as follows:
Goalkeeper: Mohamed Abu Gabal.
Defense line: Omar Kamal, Mahmoud Hamdy al-Wensh, Mohamed Abdel Moneim and Ahmed Fattouh.
Midfield line: Mohamed Elneny, Amr al-Sulayya and Hamdy Fathy.
Attack line: Mohamed Salah, Mostafa Mohamed and Omar Marmoush.
Edited translation from Al-Masry Al-Youm