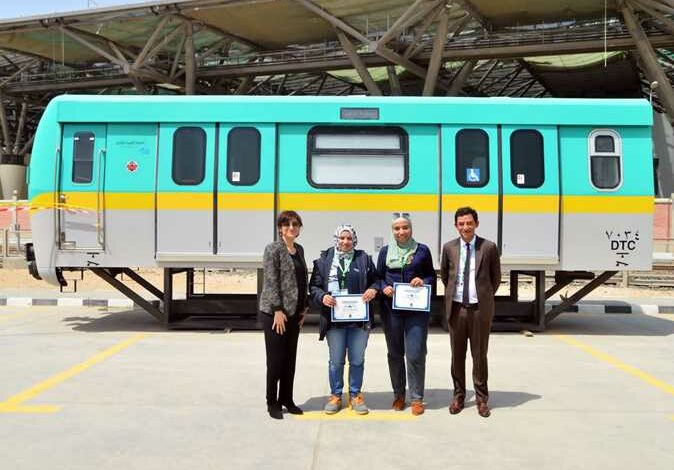 The company operating the third subway line RATP Dev Mobility Cairo celebrated the graduation of the first batch of female subway train drivers to work on the third green line.
The training took place in cooperation with the Transport Ministry and the Administration of National Authority for Tunnels (NAT).
Essam Wali, head of NAT, explained that training female drivers will contribute to adding more effective Egyptian cadres to one of the most important national and vital projects related to facilitating the lives of citizens.
This will also contribute to providing more real opportunities for young people to work.
He added that cooperation with RATP Dev Mobility Cairo achieves the objectives of the authority and the Transport Ministry in general, due to its global expertise in the transport and communications sector to the Egyptian market.
Through its role in operating and managing this vital facility it depends on highly trained cadres, where more than 90 percent of them are appointed from Local cadres trained at the highest level.
For his part, Wadii Bouchiha, CEO of RATP Dev Mobility Cairo, said that the women who passed the training and tests for the position of "train driver" underwent high-level training and tests to measure their suitability to lead the metro and ways to control it.
Bouchiha said that this step is a historical precedent that has never happened in Egypt before.
He added that the company is working to develop the metro operating system and pay attention to raising the level of maintenance, in addition to adding more technology features within metro stations to provide the best services to metro users, and transfer these experiences to Egyptian workers in the metro sector.
Special trainings for train conductor applicants are based on dealing with different train technologies and on how to deal with different scenarios that the driver may encounter while driving the train.
The trainees are subjected to practical training on simulators.