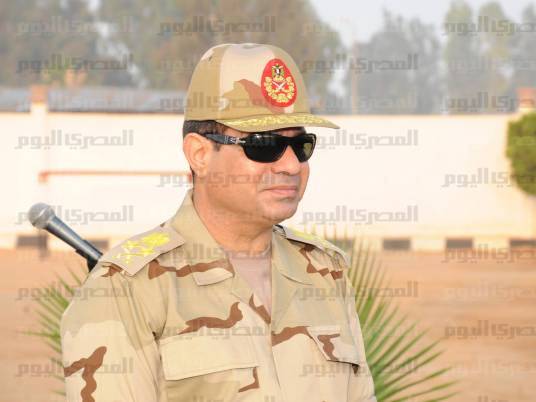 General Abdel Fattah al-Sisi's stern features look down from behind aviator sunglasses in photos on Egypt's front pages and from street posters, and there's already talk of a presidential run. In the weeks since the army he heads evicted president Mohamed Morsy from office after nationwide protests against the elected Islamist head of state, Sisi has become something of a national icon.
"He is the one we can trust," declares one poster above his official portrait. Another shows the general standing and saluting in front of the pyramids, with a lion by his side and an eagle superimposed above. And a cartoon in Akhbar Al-Youm weekly depicts the general, in full military regalia, as a composite of different Egyptian citizens.
The media, both state-owned and independent, have lined up behind the general, especially after he urged Egyptians to take to the streets to demonstrate their support for military action against "terrorism." "Sisi's message is received, and the people respond 'we authorise you!'" Al-Akhbar trumpeted on its front page. The country's columnists have even been competing to heap praise on the 58-year-old general.
Al-Akhbar columnist Mohammed Hassan al-Banna said he would attend public shows of support called by Sisi. "Of course I'll come out… to say to Sisi, I'm a soldier among your troops, because you are a commander who is loyal to Egypt and because you are one of our sons," he wrote.
Such praise has stirred comparisons with the late president Gamal Abdul Nasser, a former officer who helped lead egypt's 1952 revolution and became a nationalist icon across the Arab world. Nasser is still revered in Egypt and his tough stance against the Muslim Brotherhood has been likened to Sisi, who is also said to greatly admire the former president.
In an article on Sisi, Al-Masry Al-Youm columnist Yasser Rizq said the general has "a dignity that reminds me of the extraordinary leader Gamal Abdel Nasser." Not to be outdone, columnist Ghada Sherif described Sisi as Nasser's "reincarnation", in an article that tested even some of the strongest supporters of Morsy's ouster.
"He doesn't need to order or command us, all he needs to do is give us a wink with one eye, or even just flutter his eyelashes," she wrote in Al-Masry Al-Youm. "This is a man adored by Egyptians. And if he wants to take four wives, we're at his service." State television, which has displayed a talent for rapid shifts in editorial line over the country's tumultuous recent political history, has been similarly effusive.
In covering a police academy graduation, it kept the cameras largely concentrated on Sisi, who serves as defence minister, at the expense of the man seated to his side — the army-appointed interim president Adly Mansour. For many Egyptians, the media hype merely reflects their respect for a man they say helped save the country.
"I love Sisi," said 47-year-old Amany Mohammed, who works for a Cairo public relations firm. "I believe most Egyptian people support him. They were waiting for a leader and they found him in Sisi."
Fear of power grab
Like many Egyptians, Mohammed has faith in the army as an institution staffed by "our relatives and families." She dismissed fear of a power grab and past abuses under military rule since the uprising of two years ago. "They've made some mistakes in the past, but I don't think they'll do it again. People are very alert and… will pay attention to all their actions."
Ali Abdullah, 22-year-old kiosk owner in Cairo, agreed. "He's a good man. What he did was right and it was what we wanted. I like him because he has a strong personality, he leads both the army and the people. He's a man who understands."
Such high praise worries some observers, including an activist movement which has held "Third Square" protests to reject both Morsi's Muslim Brotherhood and military rule. "He's experiencing his moment of glory right now," Mostafa Kamel el-Sayyed, a professor of political science at Cairo University, told AFP. His popularity runs the risk of becoming "a cult of personality," he warned.
That hasn't stopped some urging Sisi to run for president, a prospect that even some of his supporters oppose. "He is a military man, and his role is in the military, not the presidency," Abdullah said.
But Mohammed said she hoped Sisi would stand. "I don't see anyone else on the ground who is capable of being president," she said.