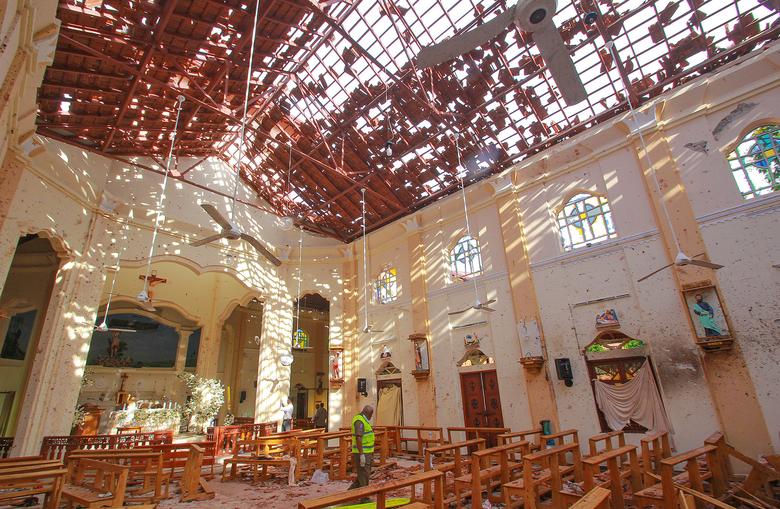 Egyptian President Abdel Fattah al-Sisi on Sunday condemned the terrorist attacks in Sri Lanka. "I extend my sincere condolences to the victims of the terrorist acts in Sri Lanka, which are not aimed at a particular country, but are aimed at all humanity," Sisi said in a tweet on his official Twitter account.
"We all have to stand up to our historic responsibility against these actions, which are stripped of all the meanings of humanity," he added.
The Egyptian Ministry of Foreign Affairs condemned in a statement on Sunday the series of simultaneous bombings targeting churches and hotels in the Sri Lankan capital of Colombo, killing and injuring hundreds. Egypt expressed its sincere condolences to the families of the victims and wished speedy recovery to the injured.
The Ministry of Foreign Affairs said that the government and the people of Egypt stand with the government and the brotherly people of Sri Lanka, and Egypt confirmed that these despicable acts targeting innocents and places of worship will not succeed in their goals.
Al-Azhar Grand Shaikh Ahmed al-Tayyeb also condemned the bloody terrorist attacks in Sri Lanka. "I cannot imagine that a human would target safe people during their celebrations," he said in a tweet on Al-Azhar's official account on Twitter. "The nature of those terrorists has contradicted all religions beliefs," he said.
The Grand Mufti of Egypt Shawki Allam strongly condemned the terrorist attacks in Sri Lanka. He stressed in a statement that bloodshed and the targeting of places of worship are rejected by all religions and result in the spread of hatred and strife in societies, threatening the social fabric and leading to fighting among people of one nation.
Edited translation from Al-Masry Al-Youm