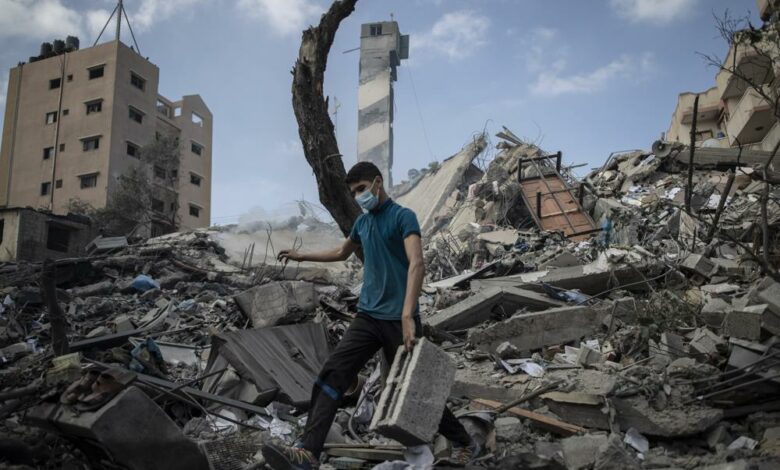 Britain's Financial Times newspaper reported on Thursday that Egypt has cemented its role as Middle East power broker, after brokering a ceasefire agreement between Israel and militants in the Gaza strip.
The newspaper said that US President Joe Biden, as part of his efforts to stop the war in the Gaza Strip, made his first phone call with President Abdel Fattah al-Sisi.
The newspaper added that since the escalation of the conflict in the Gaza Strip, the Egyptian and American leaders have spoken twice.
Egypt's negotiations on a ceasefire in Gaza, which ended the 11-day war that killed 243 Palestinians and 12 Israelis, confirmed the importance of Cairo as a powerful regional mediator in the region's oldest and most intractable conflicts, it said.
The Financial Times added that Cairo's pivotal role in the region makes it an important partner for the Washington, and both leaders announced that they are looking forward to strengthening bilateral relations.
Furthermore, US Secretary of State Antony Blinken met with President Sisi in Cairo on Wednesday as part of his Middle East tour. He too stressed that Egypt was a "a real and effective partner in dealing with the violence, bringing it to a close, relatively quickly."
The British newspaper also quoted Western analysts and diplomats as saying that when it comes to the Palestinian issue, Egypt is in a unique position. It is the first Arab country to sign a peace agreement with Israel in 1979, after its victory in the 1973 war, which has linked Egypt to diplomatic and security relations with Israel for decades.
Egypt still maintains political and cultural capital and important ties that were built through its historical relations with the  conflict's parties, Kristin Diwan, a resident researcher at the Arab Gulf States Institute in Washington, affirmed.
"Egypt not only has a long history of mediation in the Israeli-Palestinian conflict. It also shares borders and security interests with both Israel and Gaza," Diwan said.
___
IMAGE: A Palestinian man inspects the damage of a six-story building which was destroyed by an early morning Israeli airstrike, in Gaza City, Tuesday, May 18, 2021.