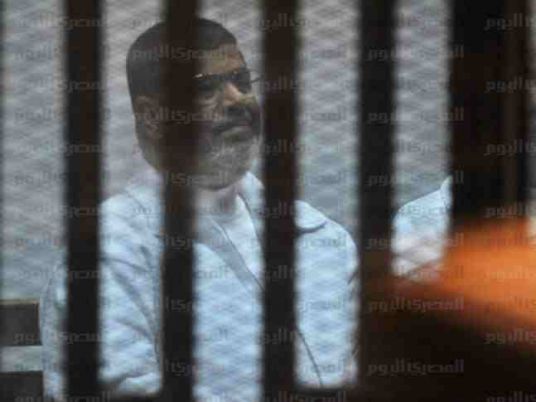 Cairo's criminal court postponed the trial of ousted President Mohamed Morsy on charges of spying for Qatar.
The next session will be held tomorrow and will be a secret session.
Morsi, who was ousted in July 2013, stands trial alongside 10 others, including two of his aides over accusations of leaking classified national intelligence to the Qatari intelligence.
This trial started last month, with Morsi saying in the first hearing that he was brought to court "forcibly".
Prosecutor General Hisham Barakat accused Morsi and his two aides, head of his presidential office Ahmed Abdel Atty and personal secretary Amin al-Serafy, of seizing classified national security intelligence and delivering it to the Qatari intelligence and the Qatari news network Al Jazeera.
He said they leaked the intelligence with the help of eight "spies" and in exchange for a million dollars, adding that they were carrying out the instructions of the "terrorist" Muslim Brotherhood international organization.
Egypt's top prosecutor referred all 11 of them to court in September of last year.
Morsi has refused to answer questions on this case during investigation.
Morsi now stands trial in a total of five cases, facing an array of charges including other espionage charges, inciting to kill protesters outside the presidential palace during his tenure, insulting the judiciary and escaping prison during the January 2011 uprising.
Egyptian-Qatari ties have been strained since Morsi's military ouster, with the authorities replacing Morsi's regime viewing Qatar as a Brotherhood sympathizer, using the Qatari Al Jazeera network for this aim.